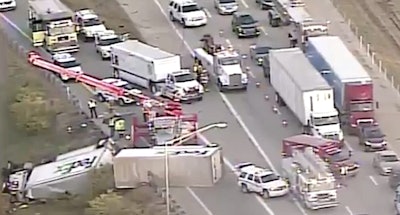 A truck driver from Indiana spent a harrowing two hours Thursday morning, Nov. 8, when the tractor-trailer he was driving left Interstate 275 in Kentucky, crashed down an embankment and left him hanging upside down in the cab.
The driver of a FedEx truck was eastbound on Interstate 275 when he struck an unoccupied vehicle in the emergency lane at about 6 a.m. at the Mineola Pike interchange, according to a spokesperson with the Boone County Sheriff's Office.
Investigators said the truck went off the road, over an embankment and flipped onto its side. First responders extricated the man who was flown to the University of Cincinnati Medical Center.
The driver was not identified by police.