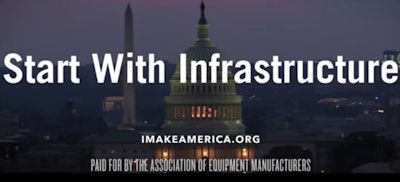 The Association of Equipment Manufacturers is calling for bipartisan cooperation to improve the nation's infrastructure. Part of their effort is a two-week digital ad campaign that includes a video telling elected officials, "Start with us, start with infrastructure."
The association said:
By Starting with Infrastructure in 2019, Republicans and Democrats have an opportunity to create jobs and keep our nation strong. This includes reaching an agreement in the New Year on a long-term and sustainable funding solution for the Highway Trust Fund.
By reclaiming our infrastructure advantage we will ensure the safe and efficient movement of people and goods, connectivity between and within rural and urban America, as well as strong economic growth and job creation. Without it, our country risks losing tens of thousands of jobs and billions of dollars in economic activity if Republicans and Democrats don't work together.
The AEM represents companies that make agricultural and construction equipment.
The Wall Street Journal recently reported, "A person familiar with the president's thinking said he was prepared to spend 'buckets of money' on an infrastructure plan as he closes out his first term and prepares for a re-election run — a sign that there could be room for agreement with Democrats."