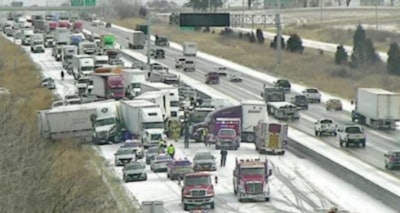 Several tractor-trailers appear to have been involved in a massive 50-vehicle pileup on Interstate 80 near Des Moines.
Iowa State Patrol report one person was seriously injured after the wreck, which occurred at about 11 a.m. in the westbound lanes of I-80 just east of the interchange near U.S. Highway 65 in Altoona, Iowa. The mishap occurred about 12 miles east of Des Moines.
A quick-moving snowstorm was blamed for creating the dangerous driving conditions near the Des Monies.
This video from @KCCINews is terrifying. Big pileup on I-80 near Des Moines today. At least one person is hurt. pic.twitter.com/U1bJWtbtAE

— Tanner Kahler (@tannerkahler) December 9, 2019