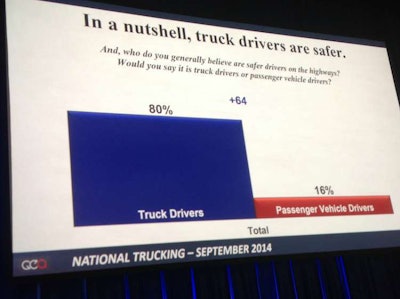 What do Sally Field and truckers have in common? Besides Smokey and Bandit, that is. People like them both – and you can't deny the fact they like them!
It's true. A new national poll released this week found that much of the American public knows someone in trucking, thinks positively of the industry and believes professional truck drivers are among the safest drivers on the road.
Wow, I say.
And some of specifics are even more impressive:
80 percent believe truck drivers are safer than passenger vehicle drivers
Just 7 percent of respondents believe truck drivers are more likely than passenger vehicle drivers to drive unsafely
90 percent of respondents believe passenger vehicle drivers are more likely to speed than truck drivers; and
74 percent of respondents think in accidents involving a car and a truck, the passenger vehicle driver is at fault.
The poll, conducted for the American Trucking Associations by Public Opinion Strategies between Sept. 20-24, surveyed 800 registered voters on their attitudes about politics, the trucking industry and the state of infrastructure.
I still don't know what to think about the 8 in 10 Americans who believe truck drivers are safer than car drivers. Who knew?
Pollster Neil Newhouse had an idea, as he explained in presenting the results at ATA MC&E this week.
"This is really good news for the industry; the safety numbers are extraordinary," he told convention attendees. "This is what they're seeing on the roads. There's a consensus across the country that truck drivers are much safer, much more diligent, they're less likely to speed and cause crashes than are passenger car drivers."
The poll's section regarding the condition of the nation's roads and bridges came in as expected (most American's feel they need work, but no one wants to pay for it) as did most of the political sentiment (Washington's a mess, too).
The complete results are here, for those interested in closer look.