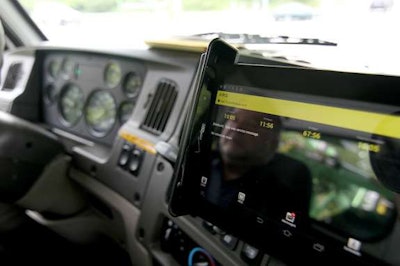 A survey out this week from the Federal Motor Carrier Safety Administration (FMCSA) says drivers who use electronic logging devices instead of paper logs are more likely to experience harassment from their carriers in the form of interrupted off-duty time. But, the FMCSA says its research shows that few drivers feel they are harassed by their carriers, regardless of which log they use.
"The evidence in this survey research does not support concluding that harassment occurs due to being in situation where HOS are logged using ELDs," according to the agency's report.
Those who are being logged either way say differently.
Comments include:
"I fail to see how I'm safer when my rest is dictated by a little box rather than if I'm tired or not."
"The thought of having one of these boxes placed in My Truck is demeaning and insulting!!!! I Now Have to Prove Myself Innocent???"
"And because the FMCSA deems driver harrassment is a non issue, we all know it must be true. Afterall they are the experts on what's best for the trucking industry and it's drivers. Insert choking noises here …"
How about you? Are you feeling harassed? What do you think of ELDs?