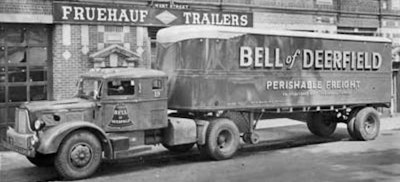 The man responsible for some of the most important equipment advances in the trucking industry will be honored Thursday night in Detroit.
August Fruehauf, inventor of the semi-trailer and the first refrigerated trailer, will be inducted into the Automotive Hall of Fame in black-tie ceremonies Thursday night.
In 1914, Fruehauf, then a Detroit blacksmith and carriage maker, was approached by a local lumber manufacturer who wanted to transport his boat. Instead of using horse-drawn wagon, the man asked Fruehauf to create a way to tow the boat with a Ford Model T.
In its information about Fruehauf's induction, the Automotive Hall of Fame wrote:
"Fruehauf removed the front axle from a wagon that was attached to the rear of (the) Model T. He then removed the T's backseat and attached the trailer to the top of the chassis. He called his invention a "semi-trailer." After the trailer successfully transported the boat to the lake, (the man) asked Fruehauf to construct trailers for his lumber yard. Trailer orders for other lumber yards came pouring in, leading Fruehauf to establish the Fruehauf Trailer Company 1918. The company quickly grew into the largest semi-trailer manufacturer in the world while introducing groundbreaking innovations in semi-trailer technology."
In 1926, Fruehauf introduced the automatic fifth wheel hitch, which is still in use around the world. He is also credited with constructing the first refrigerated semi-trailer. He died in 1930.
Fruehauf's story is told in the book, Singing Wheels: August Fruehauf and the History of the Fruehauf Trailer Company.
Other inductees this year are:
Alberto Bombassei
Jack Roush
Edward Welburn