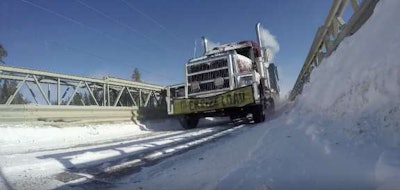 Don't expect to see the latest episode of Ice Road Truckers tonight.
The popular reality show on the History Channel generally takes a week off each season, and this is it.
This week off gives the cable channel an extra week to hype what many viewers have been expecting and waiting for: The return of Reno Ward, son of the late Darrell Ward. As the clip below shows, there will be plenty to hype as the young Ward gets in his father's truck to help Lisa Kelly, his dad's former business partner, make an oversized delivery for Polar Enterprises.
Have an extra box of tissues handy is all we will say.
To hold you over, until next week, take a look back at last week's episode.
Ice Road Truckers normally airs on Thursdays at 10 p.m. Eastern and 9 p.m.Central on the History Channel.