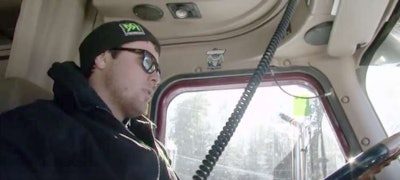 Last night's episode of Ice Road Truckers was, on one hand, rewarding, and on the other, more than a bit frustrating.
Rewarding because it marked the return of Reno Ward, son of the late Darrell Ward, to the cast, something suspected and teased since the season debuted.
Frustrating because it left viewers hanging as Lisa Kelly sped toward a considerable ice road calamity.
Combined, these two plot points made stressful trips by ice roaders Steph Custance and Art Burke seem like Sunday drives.
Lisa Kelly, Reno Ward and Mark Kohaykewych: Oversized convoy
Polar Enterprises has its biggest load of the season, and one its largest ever to deliver: A prefabricated metal building that's 32 feet x 14 feet headed to North Caribou Lake 400 miles north of Winnipeg. There's also all of the other materials needed to install the building. Combined, it's a $600,000 load.
Polar owner Mark Kohaykewych decides he'll drive the pilot truck to lead the way and taps Lisa Kelly to carry the building. That leaves someone to pull the second flatbed with all of the other materials.
Enter Reno Ward, who had worked with his father about three years ago, a partnership that didn't end especially well. Still, the younger Ward says he "learned from the best" and Kohaykewych gives him the keys to his dad's truck.
Not surprisingly, there is a touching scene as Reno crawls into the seat his father occupied, and an even more touching one when Kelly climbs up to give him a hug.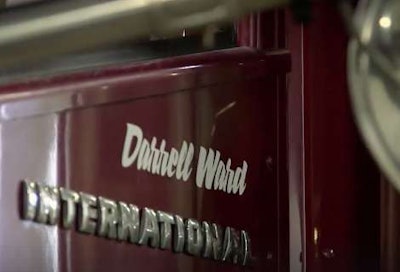 Being in the truck and making the run "brings me closer to him," Reno say of his dad before they head out.
It's not long before the three-truck convoy hits a snag: A blizzard that dumps several feet of snow forcing them to stop for 24 hours.
"We're sitting and we can't afford to sit," said Kohaykewych.
Once they're on the road again, the trio comes to the first of several narrow bridges they must negotiate. It's a 15-foot-wide bridge for a 14-foot-wide load, giving Kelly just 6 inches of wiggle room on each side.
With Kohaykewych guiding her from the front and Ward watching from behind, Kelly inches across the modest span, and Kohaykewych is finally able to say, "We got it, baby, we got it!"
Still, a second narrow bridge loomed, and this one was at the bottom of two 18 percent grades: One going down and the other going up. This meant both rigs had to head downhill at a good enough speed to then get uphill after making the narrow bridge crossing.
Ward went first with the smaller load, crossed the bridge at about 65 mph and scaled the uphill side with no problem.
"It's the moment of truth," Kelly said as she headed downhill toward the bridge, gaining speed.
And, that's where the episode ended.
Steph Custance: A shift in her fortunes
After essentially running some errands for Polar, rookie driver Steph Custance had a flatbed load of building supplies to deliver from the company's outpost at Pickle Lake to Big Trout Lake. This could have been an uneventful 160-mile run.
It wasn't long before Custance ran into problems: Her load was shifting; not by inches but by feet.
"Holy crap," observed Custance. "It's all over the place."
Stopping to survey the problem, Custance decided the best course of action was to add another strap. While it may have been a wise choice, it was not an easy fix as temperatures had dropped to well below zero.
Adding the extra strap meant maneuvering between stacks of pallets, and even for the diminutive Custance, it would be a tight fit. Risking frostbite, she shed her heavy winter gear and gloves and shimmied between the building supplies to make them more secure.
Back on the road, Custance nursed her truck along and eventually made it to Big Trout Lake.
"It was a tough trip, but we made it," she said.
Art Burke: Hurries up and waits … often
Poor Art Burke. The pressure was on to grab a load and hot-foot it to Pauingassi, about 170 miles north of Polar Enterprises, HQ in Winnipeg.
But, his run came to an abrupt halt when his truck had mechanical problems, stopping him less than a mile into his trip to pick up a load of building supplies.
Repaired, loaded and anxious to make up for lost time, Burke headed north … briefly. This time his trip was interrupted by a major blizzard that seemed to blow up out of nowhere.
"I can't see a hell of a lot," said Burke as he geared down and eased his way over icy roads now being quickly covered in snow. The veteran Polar driver was forced to pull over and wait out the worsening storm, adding as he did, "That's the worst I've ever seen it."
That was just the first "worst" for Burke on this trip.
Rolling again the next day, Burke closed the distance on his comparatively short trip to Pauingassi only to have yet another hurdle to clear.
Burke eventually arrived at Fishing Lake and its 10-mile ice crossing. The recent thaw/freeze cycle left the lake surface rutted, cracked and with patches of standing water.
"I hope I get through this to be honest," said Burke after surveying the lake surface on foot, adding it could be the "worst ice crossing of the year."
Erring on the side of caution, Burked waited to make the crossing late at night, giving the lake time to freeze more solidly.
Eventually, Burke eased onto the lake, while several times recounting how he broke through the ice two winters ago. But, in the end he made it across Fishing Lake.
"I can't say I'm not happy to be off that," Burke said as he headed to his destination.
Ice Road Truckers airs Thursdays at 10 p.m. Eastern and 9 p.m. Central on the History Channel.