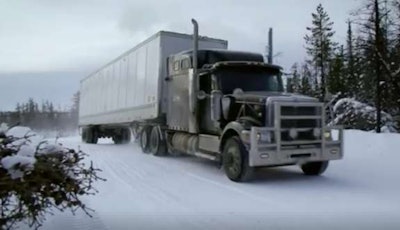 The seasonal winter roads of northern Canada have been unpredictable this season. They thawed and refroze and then came a blizzard with sub-zero temperatures and multiple feet of snow.
So, it was just another day at the office for the men and women Ice Road Truckers, which airs tonight at 10 Eastern and 9 Central on the History cable channel.
Last week, all of the drivers struggled with navigating the ice roads. Several wound up in ditches filled with snow, while one lost part of their truck trying to help out a colleague.
One of those who buried their truck in the snow was Reno Ward, son of the late ice roads icon, Darrell Ward, who died in a plane crash in August of 2016. The younger Ward is back helping out Mark Kohaykewych at Polar Industries. In last week's episode, Ward swerved to miss hitting a pickup truck head on and wound up in the ditch.
His dad's former business partner Lisa Kelly came a long to help him out, but wound up having the front bumper of her truck ripped off in the process.
Tonight's episode is the eighth of this, the 11th season.