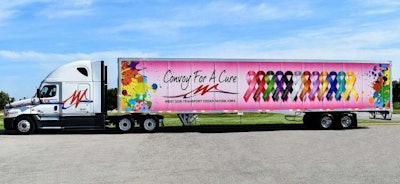 It was a difficult year for many in the U.S., but truck drivers, carriers, companies and associations rose to the occasion to help those in need. While it's likely that 2017 will be remembered as the year three devastating hurricanes hit the U.S., and wildfires and drought plagued much of the West, it will also be recalled for the generosity shown to those in need. Carriers contributed millions of dollars in donations and in-kind services, while individual truckers helped others in need and even saved lives. Here's a recap of many of the acts of kindness Truckers News had the pleasure of reporting on this year.
A Georgia driver was honored for his work in support of an organization helping children with brain cancer. Herschel Evans, who drives for Holland, was one of the recipients of the Mike Russell Trucking Image Award given by the American Trucking Associations recently. Evans, who is also one of ATA's Road Team Captains, was recognized for establishing the Safety Drive for a Cure, a truck safety and skills competition benefitting the Pediatric Brain Tumor Foundation.
On Mother's Day, the drivers of 595 trucks made the 29-mile round trip from Lancaster, Pennsylvania to neighboring Ephrata and helped raise what the Make-A-Wish of Philadelphia, Northern Delaware and Susquehanna Valley expects said wound up being $450,000. The truckers themselves raised $300,000 of that total during the event sponsored by the RoadPro Family of Brands.
Mack Trucks donated a 2018 Mack Anthem 70-inch Stand Up Sleeper model to the American Trucking Associations' Share The Road safety program. The Share the Road program relies on professional truck drivers to conduct live safety exhibitions for students, media and policy makers demonstrating how to drive safely alongside semi-trucks.
Dart Transit Company partnered with the St. Christopher Trucker Development and Relief Fund at the Mid-America Trucking Show in Louisville, in March to raise $4,400 for the charity. Dart had a "Cash Catch" booth at the show where participants could try to catch $1,000 cash in 60 seconds as the money blew around them in a booth. Once their round was over, the leftover cash was donated to the St. Christopher Fund.
An Indiana trucker was recognized for his efforts to rescue another driver who was injured and trapped in his cab after an accident. Dave Begley, of Elkhart, Indiana, who drives for Bennett International Group of McDonough, Georgia, was named a Highway Angel by the Truckload Carriers Association.
A 32-year-old truck driver from Florida received a major national award for heroism. Jason Williams is one of 20 recipients of the Carnegie Medal given for civilian heroism. Williams was recognized for rescuing Michael J. Bridges from a burning vehicle in Apopka, Florida Aug. 4, 2016.
A trucker charity received its largest donation ever from the sale at auction of a custom Kenworth June 20. Kenworth's "Everyday Heroes" T680 was auctioned off by Ritchie Bros. in Phoenix, Arizona, with the proceeds benefiting Truckers Against Trafficking. The truck sold for $125,000, according to the Ritchie Bros. website. It was purchased by Mike Jimenez, owner of Phoenix-based J&L Transportation. The truck reportedly will be placed in J&L's dedicated fleet and used in Arizona, California and Nevada. The sale resulted in $89,000 going to Truckers Against Trafficking
Omnitracs, a fleet management solutions company, donated $25,000 to Wreaths Across America for 2,500 wreaths. Each December WAA coordinates a nationwide effort to have remembrance wreaths placed on veterans' graves across the country, as well as at some international locations. Omnitracs has donated to WAA for eight consecutive years. In total, the company has donated $200,000.
A Louisiana driver was honored for helping a fellow trucker who had a health issue. Chris Lemaire, of Erath, Louisiana, a driver for Earl L. Henderson Trucking Company of Caseyville, Illinois, was named a Highway Angel by the Truckload Carriers Association for performing CPR on a fellow driver who collapsed.
Roadmaster Drivers School stepped up to assist Puerto Rico by helping coordinate water delivery to the territory following Hurricane Maria. The school partnered with Barnes Supply to help transport 38,000 bottles of water part of the way on their journey to San Juan. Roadmaster CDL instructor Daniel Panlaque, 55, drove one of Roadmaster's Operation Freedom trucks from Orlando to Tampa with the load of water, where it was delivered to a C-130 plane making a supply run to San Juan. Panlaque is a 2008 Roadmaster graduate.
The annual Truck Convoy for Special Olympics in Des Moines, Iowa raised over $40,000 in October. There were 145 trucks registered for the event and 111 participated in the convoy. The trucks drove from Veterans Parkway to the Iowa State Fairgrounds. Special olympics athletes were able to ride in the trucks as part of the convoy.
Pilot Flying J announced a partnership with Food Donation Connection, an organization that works to help food service companies feed those in need while reducing food waste. Through the Harvest Program, Pilot Flying J will donate surplus food items to local non-profits and food banks to help families facing hunger. This nationwide initiative between the two Knoxville-based companies will combat hunger in areas where Pilot Flying J is located, and aims to surpass their 2017 goal with more than 200,000 pounds of food donated in 2018.
A Texas trucker was recognized for for pulling a driver away from his burning pickup truck just before it exploded. For his efforts, Adrian Parada, of El Paso, Texas, a driver for Stagecoach Cartage & Distribution, also of El Paso, was named a Highway Angel by the Truckload Carriers Association.
A couple of small Pennsylvania trucking companies helped out ranchers on the other side of the country this fall. More than 30 truckloads of hay were delivered from Eau Clair, Pennsylvania to ranchers in Montana whose herds suffered from severe drought and wildfires that have burned for much of the summer. Trucking company owner Perry Altmire Jr. started the hay drive after talking about the ranchers' plight with his son who is stationed at Malmstrom Air Force Base in Great Falls, Montana.
A Wisconsin trucking company played a role in getting donated relief supplies to Texas in the wake of Hurricane Harvey. Green Bay-based Contract Transport Services in September hauled seven trailers loaded with donated goods to Texas to help residents along the state's coastline and the Houston area. The resources CTS put into the relief effort — seven semi trucks and trailers, drivers' wages and travel expenses, and fuel — were all donated by the company; valued at $34,000. The donation drive titled Titletown to Texas was originally expected to fill one or two trailers.
Topeka, Kansas trucker Roy Flowers was honored by Iowa Gov. Kim Reynolds for rescuing a cement mixer driver after an accident in April. Flowers, a driver of 17 years and former volunteer firefighter, was driving on I-80 near Des Moines when he saw a cement mixer overcorrect after swerving to avoid hitting a passenger vehicle. The mixer bounced off the middle barrier and flew into the north ditch. Flowers parked his truck and rushed to the driver's aid. He worked to pull him out of the truck and away from the accident scene. The cement mixer's cab was consumed by flames, but Flowers, with the help of two other men, pulled the driver to safety.
The St. Christopher Truckers Relief Fund has $241,310 more with which to help truckers thanks to TA Petro's annual "Band Together for SCF" campaign. The campaign ran during August. TA sold SCF wristbands for $1 and $5 and donated the money to SCF. TA and SCF have partnered for the annual campaign since 2010, with TA having raised over $2.2 million for the driver-focused non-profit.
Pilot Flying J is honor those who served by giving $100,000 to help build the National Desert Storm War Memorial on the National Mall in Washington, D.C. "On behalf of our 26,000 team members, we believe this donation is one small way that we can demonstrate how proud we are of the men and women who serve," said Pilot Flying J CEO Jimmy Haslam.
The Truckload Carriers Association gave out over $140,000 dollars to the 50 winners of its 2017-2018 TCA Scholarships. Prospective students are able to earn up to $6,250 to put toward college through the association's annual scholarship program. TCA established its scholarship fund in 1973 and has awarded scholarships annually since.
Six full-sized Arpin Van Lines moving trucks rolled off Cardi's Furniture parking lots in Septmber, filled with cleaning and building supplies bound for Houston, Texas. "Hurricane Harvey may have disappeared from the headlines, but it will be many months before Houston and the surrounding communities recover and rebuild from the devastating floods," said David Arpin, president and CEO of Arpin Van Lines, which is located in Rhode Island. The supplies are expected to help clean and rebuild up to 1,000 homes.
In response to the damage caused by Hurricane Harvey and record-setting rain in Houston and other areas, Averitt Express donated $100,000 to the American Red Cross National Disaster Relief Fund recently. The Red Cross is currently using the funds to provide food and shelter to thousands who have been affected by the floods in Texas and Louisiana. According to Averitt officials, the donation was made from funds collected through the company's employee giving organization, known as Averitt Cares for Kids. Averitt Cares for Kids is funded by voluntary contributions from employees.
A group of musically-inclined truckers hosted an online concert in September to raise money and awareness for victims of Hurricane Irma. The live performances were aired on the Truckers For Humanity Facebook page. The line-up included: Tony Justice, Bill Weaver, Carol Ann Weaver, Terrance "Jake Brake Junkey" Mathis, Long Haul Paul Marhoefer, Brad James, Taylor Barker, Michael Lochmiller and TRUK and friends.
Hankook Tire donated $150,000 to support the Disabled American Veterans' (DAV) Mobile Service Officer (MSO) program, in which vehicles take free services directly to veterans. The company also launched its new Hankook Heroes Recognition Program, which invites individuals to share their stories about why veterans are heroes to them. Hankook will donate a second set of tires to DAV for its MSO vehicles.
A company driver for one of Canada's largest trucking companies was recognized for his actions to help an injured fellow trucker. Ajay Toor, of Surrey, British Columbia, Canada, a driver for Bison Transport of Winnipeg, Manitoba, was named a Highway Angel by the Truckload Carriers Association.
Love's Travel Stops raised over $2.76 million for Children's Miracle Network Hospitals through its annual five-week long campaign. This is the most the company has ever raised during this campaign, which it has hosted annually for 18 years. "We're so grateful that Love's Travel Stops' employees and customers helped smash this year's campaign fundraising goals," said John Lauck, president and CEO of CMN Hospitals.
Two independent truck stops gave truck drivers free Thanksgiving dinners in November. The Boise Stage Stop in Boise, Idaho iand the Cowboy Cafe in Lyman, Wyoming each gave drivers free meals on Thanksgiving.
Employees of a major national chemical tanker trucking company helped co-workers in Texas affected by Hurricane Harvey. Employees at Highway Transport locations across the country donated paid vacation days to colleagues at company locations in La Porte and Freeport, Texas. In the midst of Hurricane Harvey, Marshall Franklin, CFO of Highway Transport, created a leave donation program to assist employees who work at the two locations hit by Harvey. The program allowed employees to donate paid leave days to help compensate those working and living near the LaPorte and Freeport locations who lost pay because of the storm.
A company driver from Florida was honored for aiding a motorist in need. David Miller, of Palatka, Florida, who drives for Indianapolis-based Celadon Trucking, was named a Highway Angel by the Truckload Carriers Association for performing CPR on an unresponsive driver.
CFI, a fleet headquartered in Joplin, Missouri, donated to 23 charities in eight cities through its "Truckload of Treasures" program. The company raised $54,000, with all of the funds contributed by nearly 3,500 employees and independent contractors. The campaign supported 14 charities in Joplin, with checks for $4,500 going to the area's "Shop with a Cop" efforts, $1,500 each to Joplin Early Childhood Bright Futures, Lafayette House and Community Clinic of Joplin. Donations were also made to charities in other cities where CFI employees live and work.
A number of trucking organizations helped their local communities during the recent holidays:
Transervice Logistics purchased toys to give to its employees children. The company wrapped and distributed more than 1,200 toys to over 120 locations.

The Allen Lund Company, a third party logistics company, served over 750 families at Society of St. Vincent de Paul in Los Angeles. It also restocked two food banks for Catholic Charities.

Celadon Trucking and Celadon Logistics participated in an annual toy drive in Indianapolis. It provided drivers and trucks to help collect and deliver the toys.

DriverFacts members worked with groups in Anaheim, California, to give toys and food to families in need and raise money for community programs.

Garner Trucking participated in a holiday charity walk and coat drive.

Employees at K. Porter Construction, Inc. donated toys to Toys For Dots. They collected and gave donations for a local food shelter.

Minnesota Trucking Association has hosted a Trucks and Toys program for over 20 years. They distribute toys to children in need through Minnesota.

Kottke Trucking raised over $10,000 worth of toys for a Trucks and Toys campaign. That is more than double what they collected last year.

Penske helped deliver presents to military spouses and their families for the Support Military Spouses program.
A Colorado truck driver was recognized for pulling another driver to safety after two tractor-trailers collided. Jeff Aleman, of Elizabeth, Colorado, who drives for CFI of Joplin, Missouri, was named a Highway Angel by the Truckload Carriers Association.