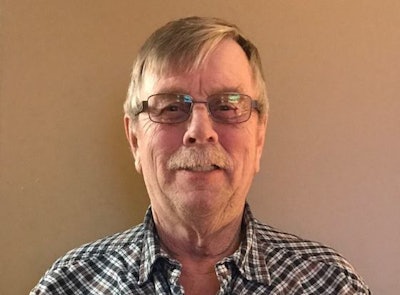 Canadian truck driver Gary West is being honored as a Highway Angel by the Truckload Carriers Association after he rescued a fellow trucker from a burning cab.
West, of Riverview, New Brunswick, had blown a tire on his truck and had been parked for the night at Lounsberry Truck Stop off the Southern Tier Expressway in Nichols, New York, last July. He had gone into the truck stop to use the restroom, and when he came out of the building he saw a truck parked near the fuel pumps had flames underneath it, presumably due to mechanical failure.
West ran toward the truck and started yelling and beating on the passenger's side door as the fire continued to worsen. West woke up the driver in the neighboring truck and that driver moved their truck out of the way, but West had not been able to make contact with the driver in the burning truck. He began trying to rock the truck in an attempt to rouse the driver as the cab filled with smoke. The burning truck's driver emerged from behind the sleeper curtain, dazed and disoriented. West was able to get the driver out and away from the truck as they waited for emergency personnel to arrive.
"Flames were now coming out from under the hood and lapping at the windshield," recalls West. "Somehow we got the door open and I helped him down from the cab."
West says he had a hard time sleeping after the incident and had a smoke alarm installed on his truck.
"Not a day goes by that I don't think about how close it was for that man," West said. "I didn't realize that (in a fire) you wouldn't necessarily wake up coughing."
TCA has recognized West with a Highway Angel certificate, patch, lapel pin and truck decals.