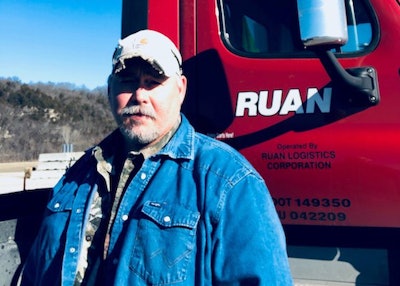 Ruan Transportation Management Systems driver Mike Johnson stepped up to help a lost child he found in a ditch and now he's being recognized by the Truckload Carriers Association (TCA) as a Highway Angel.
Johnson, from California, Missouri, was driving along Highway 19 in his home state around 4 a.m. on July 13 of last year when he spotted something odd in the ditch. He initially thought it might be a deer, but as he got closer he realized it was a barefoot child wearing only a diaper.
Johnson clicked on his hazards and pulled over to the shoulder. The child, a young boy holding a sippy cup, darted out of the ditch, ran across a two-lane road, then ran back across the road and into a nearby gravel parking lot. Johnson was able to finally catch up to the frightened child. He scooped the boy up and tried to comfort him while calling 911.
Police took the child to a local hospital where he was examined.
"You're always watching for deer," said Johnson, a single father with a son of his own. "But that day, it just came down to seeing the movement and stopping to check it out."
TCA presented Johnson with a Highway Angel certificate, patch, lapel pin, and truck decals as part of his recognition.