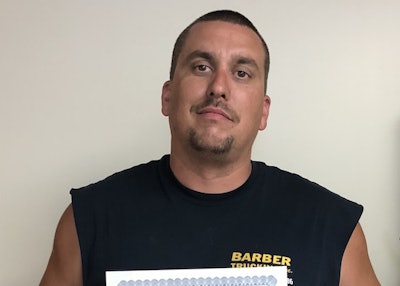 Barber Trucking, Inc. driver Daniel Barnett, from Reynoldsville, Pennsylvania, was recently recognized by the Truckload Carriers Association as a Highway Angel after he assisted at an accident scene in July.
Barnett drove up on a two-vehicle accident scene near an intersection on Highway 19 in West Virginia July 24. He saw other motorists struggling to pry open the doors to a smoking minivan involved in the accident. Barnett used his truck to divert traffic before grabbing his tool bag and approaching the minivan. He broke open the passenger's side window and provided a pocketknife so that the driver's seatbelt could be cut. Another bystander, a nurse, was able to give medical aid to the victims. Barnett got a fire extinguisher from his truck as a precaution while he and the others waited for emergency personnel to arrive on the scene.
"I would hope someone would do it if my or daughter were in that situation and not just drive by thinking someone else will do something," Barnett said.
TCA recognized Barnett as a Highway Angel. The organization presented him with a certificate, patch, lapel pin, and truck decals.