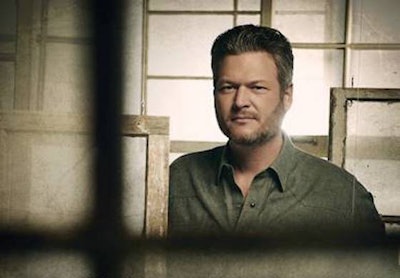 Blake Shelton will release his first full-length album since 2017 Dec. 13, titled "Fully Loaded: God's Country."
Shelton spent much of 2019 focused on releasing singles, which appear on the album alongside new, never before heard content. In all, the album has 12 tracks with featured performances from Trace Adkins and Gwen Stefani.
"This was one of those songs where the more I heard it, the more I fell in love with it," Shelton said about his duet with Stefani. "I also realized how important it is for me and where I am in my life, and I think that's why (songwriter) Shane (McAnally) was trying to get it to me. It fits my story. I was about to go in and record when I decided that it needed Gwen on it – because it is our song. I think it's magic."
The album is available for preorder on Amazon.
The album's track list:
1. God's Country
2. Hell Right (feat. Trace Adkins)
3. Nobody But You (feat. Gwen Stefani)
4. Came Here To Forget
5. She's Got A Way With Words
6. A Guy With A Girl
7. Every Time I Hear That Song
8. I'll Name The Dogs
9. I Lived It
10. Turnin' Me On
11. Jesus Got A Tight Grip
12. Tequila Sheila