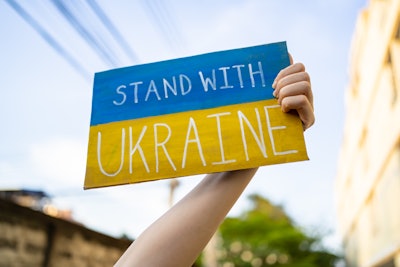 Since Russia invaded Ukraine in late February, members of the U.S. trucking industry have been active in raising funds and securing shipments of donated medical and other supplies. Here's an update on our earlier reporting on their efforts.
________
For the owner of one Chicago area trucking and logistics company, efforts to help the people of Ukraine has become a second full-time job. Ellen Lopatkina continues to oversee the daily operations of Franklin Park-based Nortia Logistics while also coordinating efforts to get aid – everything from candy for children to ambulances – delivered to Ukraine where she lived before coming to the U.S. about 20 years ago.
"We're trying to do whatever we can from here to kind of ease their burden," said Lopatkina. "We're trying to organize the supply of food, the warm clothes, the hygiene products that will help people survive the winter period because it can be brutal."
And, that has required considerable effort.
"Obviously we learn as we go, as an organization, as a company, we found the ways for the logistics to work, to become more efficient in doing that. We've shipped everything from ambulances to solar-powered water filtration systems for the orphanages."
RELATED NEWS: With deep family ties, Nortia Logistics raises funds for Ukraine
She said the nature of donations has changed since the start of the war when people were bringing "whatever they had in their cupboards." Now they are facilitating delivery of larger donations, often from companies or other non-government organizations.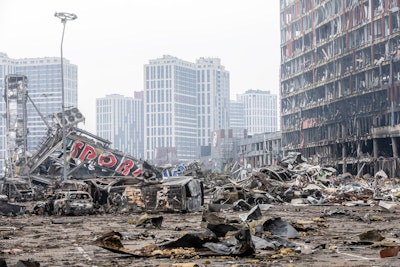 "We get donations from the food industry where the manufacturers came and said they would like to donate some of their food product but just don't know how to ship it. And, that's where we step in.
"We've seen distribution centers that had some of their customers' products that they wanted to donate, anything from food to personal hygiene, to diapers, some OTC (over the counter) medications that they were able to collect, and send over to various areas of Ukraine. But they didn't know how to get it across 5,000 miles."
Lopatkina said she doesn't expect her company's relief efforts will end anytime soon. In fact, she fears there will be even greater need for humanitarian aid as the war drags on and the seasons change.
"We're getting worried for the winter," said Lopatkina. "They destroyed enough infrastructure for a lot of cities not to have heat in winter. The Ukrainian building system (relies on) centralized heat where you have one boiler room that services multiple apartment blocks. So when that infrastructure is destroyed, most of these buildings are going to be without heat when the cold comes."
She said officials in Ukraine expect another migration of people from the eastern part of the country that have been hit the worst to the western region. She said some cities there that had 10,000 citizens before the war now have swollen to 50,000 "pretty much overnight, and the infrastructure's not necessarily there to support that."
Companies respond to GP Transco's organizing efforts
In just days after Russia invaded Ukraine, another Chicago area trucking company began an awareness and fund-raising campaign. To date, Trucking & Logistics Professionals for Ukraine, created by GP Transco has raised more than $2.5 million for relief organizations helping survivors of the Russian attacks and refugees who have fled Ukraine.
The fundraising effort was created in late February by Dominic Zastarskis, CEO of GP Transco, and Sergey Bort, the company's vice president for business development. Funds can be donated to one of three aid organizations: UNICEF, Save The Children, and the International Red Cross.
RELATED NEWS: U.S. trucking delivers humanitarian aid to people of Ukraine
Aside from raising funds for Ukraine relief efforts, Bort says the TLPU is also raising awareness.
"I think there's also another piece of it that's hard to measure; it's sort of intangible," said Bort. "That's the actual PR that this brings to the cause because not everybody wants to donate through TLPU. Other people want to donate personally. Like my wife and I will donate on our own as well. I'm hoping that this also encourages people to donate in smaller amounts."
For Bort, the war in Ukraine hits close to home. His wife is Ukrainian and her mother still lives there, about 15 miles from Kyiv.
"I'm hearing about it a lot because she talks to my wife on the phone almost on a daily basis to get updates," said Bort. "They're safe right now, but overall it's looking like it's not improving as quickly as everybody was hoping it would be. It looks like Russia is still pushing and pushing beyond what everyone expected. Nobody expected it to happen, and now nobody expected it to last, as long as it has.
"I'm also very proud of the Ukrainian people, to be honest, I'm Russian myself and I've been living in the U.S. since I was a kid. But, being originally from Russia, I can say that I'm very proud of the Ukrainian people for fighting so courageously against such an injustice."
Others in the trucking and affiliated industries have also made contributions to Ukraine relief.
Pilot and its customers raised $1,153,000 for Save The Children's Ukraine Crisis Relief Fund.
The Trucking Cares Foundation contributed $42,500.