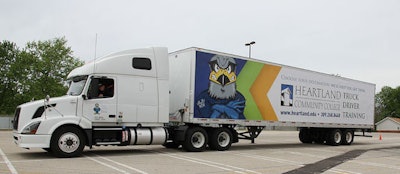 Heartland Community College in Normal, Illinois, is partnering with Sysco Central Illinois and the Logan County Economic Development Partnership to create a CDL training program.
The program is designed to prepare students for jobs as Sysco Class A delivery truck drivers. The classes run for 16 weeks and are set to begin in April.
The program is divided into two phases. During the first phase, students will complete four weeks of daily training in Heartland's CDL training program. Upon completion of the first phase, students will take the Illinois Class A CDL permit exam. Students will also interview with Sysco Central Illinois for a job.
The program's second phase will involve the students, with CDL permit in hand, completing a 12-week apprenticeship at Sysco Central Illinois. Upon completing the program, students will be eligible for a full-time trucking position with Sysco Central Illinois.
"Business and education partnerships are invaluable to our regional economy and citizens advancing their employment opportunities," said Kelli Hill, Heartland vice president of continuing education and advancement. "Heartland Community College appreciates the role of the Logan County Economic Development Partnership in supporting this effort between the College and Sysco Central Illinois."