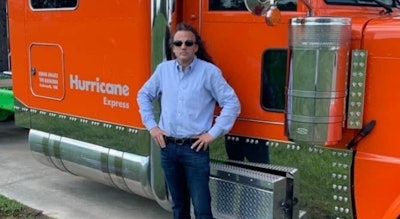 Editor's Note: Welcome to View From the Top, a new series for Truckers News. In each feature, we'll talk with one of trucking's leaders about how their company and the industry are dealing with the unprecedented challenges and changes wrought by the COVID-19 coronavirus outbreak.
In these dispiriting COVID-19 days, the Facebook posts of most trucking companies fall into one of several categories:
thanking drivers for their continued work in the face of the coronavirus
letting drivers know food, masks and hand sanitizer are available at their terminals
reminding the rest of the world how bad things would be if truckers weren't doing their jobs
Then there's this one from April 28 by Kaedon Steinert:
"As the President of Hurricane Express, I am taking absolutely no compensation of any kind for the year 2020 in response to CV-19. This means no company car, health or life insurance, no personal bills paid in any manner out of anything transportation related. No loopholes. My wife, children, and self will in no way financially benefit for the work performed in this calendar year.
"This goes out to all operators, employees, customers, creditors, and vendors: As a company, Hurricane Express could not be taking these unprecedented times any more seriously. First, we have had and will continue to have no layoffs in any department. Period. Second, we have added 40 new driving positions since the beginning of the year. Third, we are on track to add an additional 50 new driving positions by year's end. No one has had a pay cut or a reduction in hours. I am confident that once this is behind us, everyone associated with Hurricane Express will be able to look back with no regrets and no financial downside to their dealings with us."
In this edition of our View From the Top podcast series with
trucking industry
leaders, Steinert explains why and how he felt confident he could make such a bold statement. He also talks about how this 200-driver protein and produce hauler out of Colcord, Oklahoma is doing and how he expects it to do going forward. Steinert also explains why he happily spends extra thousands of dollars to put his drivers in good looking and comfortable trucks.
Search thousands of trucking jobs to find the job you want.
Find Your Next Job Today