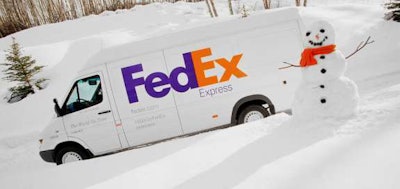 FedEx Corp. is forecasting another record holiday season, and projects Dec. 15 to be the busiest day in company history with a forecasted 22.6 million shipments moving around the world.
The company expects to move more than 290 million shipments between Black Friday (Nov. 28) and Christmas Eve, an 8.8 percent increase in overall year-over-year peak seasonal volume, FedEx says.
The season will feature shipment spikes on the first three Mondays of the month, with each expected to surpass 20 million in volume.
"Our more than 300,000 dedicated team members around the world, combined with our continued investment in our powerful and flexible global networks, position FedEx to once again deliver outstanding customer service this holiday season," says Frederick W. Smith, CEO of FedEx Corp.
FedEx also noted several measures undertaken to prepare for the busy Peak season.
The company has continued its strategic investment in network growth and capacity. In the past five years, the FedEx Ground investment for capacity projects has been close to $2.5 billion. In FY15, the company plans to invest another $1.2 billion in FedEx Ground, most of which is for capacity and automation, including more than 70 major expansion projects.
For more than five years, the FedEx Ground segment has planned and executed a seven-day Peak season operation, including Black Friday, and plans to do so again in 2014, the company said.
The company is also adding more than 50,000 seasonal positions across its operating companies. This includes package handlers, helpers, drivers and other support positions. Based on growth expectations and network expansion, the majority of those seasonal workers will have the opportunity to continue working with FedEx after the holiday season.
FedEx reports steady growth in holiday volumes over the years. Here's a breakdown of the busiest days since 2007:
Dec. 17, 2007 – 11.5 million shipments
Dec. 15, 2008 – 12 million shipments
Dec. 14, 2009 – 14.2 million shipments
Dec. 13, 2010 – 15.6 million shipments
Dec. 12, 2011 –17.2 million shipments
Dec. 17, 2012 –19.9 million shipments
Dec. 16, 2013 – 22 million shipments