Werner Enterprises honored its military veterans with ceremonies in Omaha, Phoenix, Arizona and Fontana, California on Nov. 11, Veterans Day.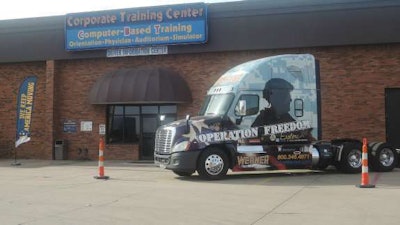 Werner representatives who spoke at the ceremonies included President and CEO Derek Leathers, Associate Vice President of Student and Government Recruiting Jim Morbach, Vice President of Recruiting Chris Polenz, Senior Vice President of Dedicated and TCU Eric Downing, and Associate Director Rick Buchholz.
Werner provided all military veteran associates free lunch following the day's events.
"We are honored to have the opportunity to express our sincere appreciation for the service and bravery of our nation's military veterans," said President and CEO Derek Leathers. "We strive to demonstrate that gratitude with our commitment to our veteran and veteran spouse hiring initiatives."
Werner said military veterans and veteran spouses account for about 20 percent of its workforce. Since starting its Professional Truck Driver Apprenticeship Program in 2006, more than 5,000 veterans have enrolled in the program, and Werner has hired more than 25,000 veterans and veteran spouses.