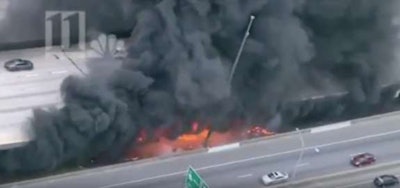 Basil Eleby, the homeless man charged in the fire that burned down a bridge on I-85 near Atlanta, was in court this morning for a status conference.
Eleby's lawyers said they have a witness that can provide Eleby with an alibi clearing him of blame for setting the fire. They filed an alibi notice Thursday, reports WXIA-TV Atlanta.
Eleby's attorneys also requested that the results of a voluntary polygraph test he took May 1 be entered as evidence. The polygraph found Eleby "passed without deception" when he answered "No" to the question "On March 30, 2017, were you involved in any way in causing that fire underneath the I-85 Bridge?"
The state has plans to file another indictment against Eleby, possibly on July 11, reports WXIA-TV. The state will interview the new witness before then and they argued the polygraph test is not scientific.
Attorneys for Basil Eleby say he didn't start the #85Fire and they have a witness #11Alive pic.twitter.com/Aq3hQWkihD

— Jennifer Bellamy (@JBellamyTV) June 16, 2017