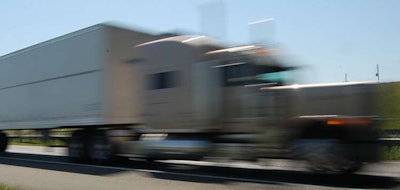 Two controversial rules the Department of Transportation was pursuing have been, at least for now, set aside.
In the latest update to its regulatory calendar, the DOT has moved a speed limiter mandate, which was issued as a proposed rulemaking last September, to a long-term agenda item and away from the active rulemakings list.
In addition, the DOT's regulatory report shows the agency last month withdrew its advanced notice of proposed rulemaking on a proposed obstructive sleep apnea protocol.
The National Highway Traffic Safety Administration and the Federal Motor Carrier Safety Administration produced a proposed speed limiter rule that would have covered most of the trucks on the road. It would have required carriers to activate or install speed-limiting devices on their trucks' engines. However, the proposal did not specify a speed, but suggested a possible range of speeds from 60 mph to 68 mph.
The rulemaking regarding sleep apnea screening for truck operators would have established a protocol by which truck drivers would be required to be tested for obstructive sleep apnea during the medical certification process. The DOT did not indicate when — or if at all — it would attempt to pursue such a rule.
"FMCSA has determined there is not enough information available to support moving forward with a rulemaking action and so the rulemaking will be withdrawn," the report reads.
The Federal Motor Carrier Safety Administration's Medical Advisory Board last year issued recommendations to guide the agency in developing the rule.