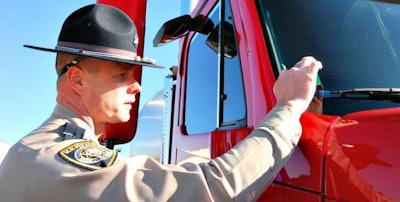 The Commercial Vehicle Safety Alliance's annual Operation Safe Driver Week is Oct. 15-21. During the week, law enforcement personnel will increase traffic safety enforcement for truckers and passenger vehicles alike.
Operation Safe Driver Week is a partnership between CVSA and the Federal Motor Carriers Association to "help improve the behavior of all drivers operating in an unsafe manner – either in or around a CMV."
Law enforcement will target speeding, distracted driving, texting, failure to use a seatbelt, traveling too closely, improper lane changes and failure to obey traffic control devices, among others violations.
In 2016, nearly 21,000 warnings and citations were issued to commercial trucks, buses and passenger vehicles during Operation Safe Driver Week. Of the total warnings and citations issued, 11,182 of them were to commercial drivers. Of that number, 6,078 were warnings and 5,104 were citations.
The top five warnings and citations issued to commercial motor vehicle drivers (as a percentage of total CMV warnings and citations) were:
State and Local Moving Violations – 56.7 percent
Speeding – 19.6 percent
Failure to Obey Traffic Control Device – 7.6 percent
Failing to Use Seatbelt – 7.1 percent
Using a Handheld Phone – 2.4 percent
In addition:
0.5 percent of CMV drivers were cited for inattentive or careless driving
eight citations related to a CMV driver's failure to stop at a railroad crossing were issued
seven CMV drivers received citations for operating their vehicle while ill or fatigued
five warnings and nine citations were issued to CMV drivers for reckless driving.
The top five warnings and citations issued to private passenger-vehicle drivers (as a percentage of total passenger vehicle warnings and citations) were:
Speeding – 39.4 percent
State and Local Moving Violations – 37.1 percent
Failing to Use Seat Belt – 11.7 percent
Failure to Obey Traffic Control Device – 1.9 percent
Inattentive and/or Careless Driving – 1.5 percent