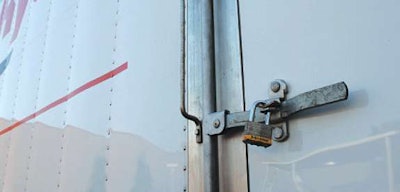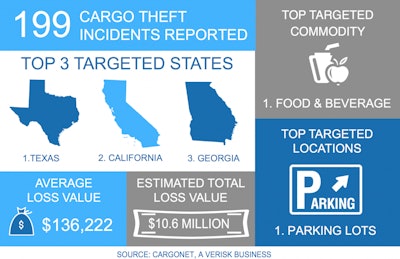 Not everyone is into giving at this holiday season. Some are into taking.
Two major cargo theft recording firms – CargoNet and SensiGuard – are warning truckers, fleets and logistics personnel of the increased threat of cargo theft during the holiday period, which is from Saturday, Dec. 23 through Jan. 2.
According to CargoNet, during the holiday periods between 2012 and 2016, there were a total of 132 cargo theft incidents worth $10.6 million, or $136,222 per theft on average.
SensiGuard predicts holiday losses will increase sharply based on numbers from last month. The firm says November 2017 saw a 37 percent increase in theft volume from November 2016 and a 101 percent increase in the average value loss per theft.
CargoNet's research indicates cargo thefts have been most common in the last five years in Texas, California, Georgia, Florida and New Jersey. Additionally, food and beverage has been the most-targeted cargo. Specifically, CargoNet says thieves have targeted meat products, non-alcoholic beverages and mixed freight.
SensiGuard recommends drivers and fleets confirm holiday hours of operation of shippers and receivers to cut down on time a load is parked.
Some notable thefts in recent years include:
$4 million in a full truckload of footwear from California
$3 million in computer accessories from Dinuba, California
$1 million in footwear from Edison, New Jersey
$1 million in high-end apparel from Newark, New Jersey