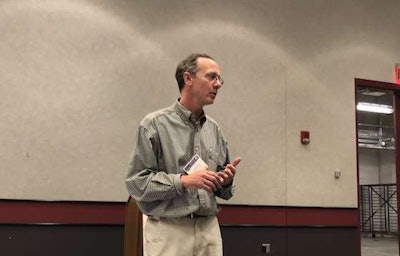 Trucker Buddy International recognized two truckers as its 2018 Outstanding Trucker Buddies during the Mid-America Trucking Show Thursday.
Trucker Buddy International Executive Director Alan Welborn announced Sonja Springman and Steen Gronlund had won the awards.
Springman, from LaPlace, Illinois, drives for Try Hours. She was nominated by ninth grade teacher Geraldine Mazua, who teaches at EREA Alain-Fournier in France. Gronlund, from Longmont, Colorado, drives for Mile Hi. He was nominated by Angie Banning at Longmont Estates Elementary in Gronlund's hometown.
Golden Hills Elementary teacher Chelsea Smith, or Oroville, Colorado, was named the 2018 Outstanding Teacher. She was nominated by Mario Moran, a Walmart Transportation driver.
Retired trucker John Waldvogel, who previously drove for Motor Carrier Services, was awarded the Darrell Hicks Ambassador of the Year award.