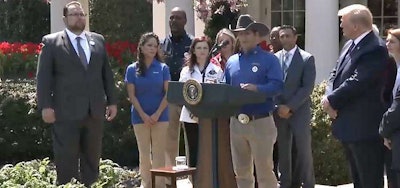 President Trump was talking about tax cuts today, and once again he had the trucking industry help deliver his message.
Executives and employees — including company drivers — of three major carriers participated in the event designed to showcase the benefits of the Tax Cuts and Jobs Act passed and signed into law late last year. Participating in the Rose Garden ceremonies with representatives from numerous other businesses as the April 17 tax deadline approaches were:
TCW Inc. President Dave Manning, chairman of the American Trucking Associations, and driver David Livingston

Werner Enterprises President & CEO Derek Leathers and driver Quinton Ward, driver Marvin Fielder, and associate Kathryn Oswald

Crete Carrier Corporation was represented by CEO & Chairman Tonn Ostergard, Vice Chair Holly Ostergard, and driver Jeff Tetzloff
This was the third time Trump has involved major fleets and drivers to advance his domestic policy agenda. Last March Trump met with company executives and members of the American Trucking Associations' Road Team Captains, and posed for photos in one of two big rigs part on the White House lawn. In mid-October of last year company drivers and executives for several major carriers were at an airport near Harrisburg, Pennsylvania helping drum up support the president's tax plan, again with trucks in the background.
While there were no tractor-trailers in the Rose Garden today, trucking was front and center at the event meant to show how the tax plan has helped workers and businesses.
"In the past three months, I got raises that will provide me and my family over $4,000 annually," said Tetzloff. "The extra money in my check provides me and my family freedom and flexibility. Also, the significant increase in my company-provided profit sharing and 401K plan provides me additional retirement security, lessening my dependence on Social Security."
An Army veteran now driving for Werner's Freedom Fleet, Ward said, "Mr. President, you care about truck drivers, and it shows. Thank you so much for fighting for us. This tax law means a better future for me, and a significant pay increase this year. As a result, my sister and I are planning a cruise with our family."
"To fully understand the true size and scale of this law's impact on our company, I point to some concrete numbers," said Werner's Leathers. "We have increased our capital expenditures for 2018 by $127 million, or 64 percent, over the previous year – 90 percent of which was for newer and safer trucks. For our employees, we are increasing driver pay by more than $24 million, an average increase of $2,400 per driver."
"Putting truckers in a position to have their voices heard on important issues is a critical part of what we do at ATA," said ATA President and CEO Chris Spear. "Our industry could not ask for better representatives than these to talk about the benefits of the President's tax reform package."
Also during the event, Trump spoke about the trade discussions with Chinese President Xi Jinping. Trump said, "I think he likes me very much, he's for China, I'm for us. That's the way it works."