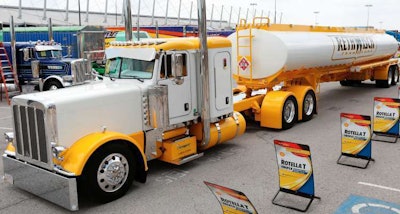 The Shell Rotella SuperRigs competition is headed to White's Travel Center in Rahpine, Virginia, June 14-16. That's just one of many truck shows on the June calendar.
The theme for the 36th annual SuperRigs this summer is "Tribute to Toughness." Participants could win cash and prizes up to $25,000. Truckers also have the opportunity to be selected for the 2019 Shell Rotella SuperRigs calendar.
Also on the June calendar is the American Truck Historical Society National Convention and Truck Show in Lexington, Kentucky May 31 to June 2. Events at the show include live music, a truck parade to old downtown Lexington, a scavenger hunt and fireworks. Antique trucks will be on display.
State trucking championships are also ramping up across the country. There are 29 annual state championships scheduled for June. Class winners from each championship will move forward to compete in the National Truck Driving Championships, organized by the American Trucking Associations, Aug. 15-18 in Columbus, Ohio, at the Columbus Convention Center.
Here's what's happening in June:
May 31 – June 2: American Truck Historical Society (ATHS) National Convention and Truck Show in Lexington, Kentucky
June 1: Alabama Truck Driving Championship in Pelham, Alabama
June 1-2: Missouri Truck Driving Championship in Branson, Missouri
June 1-2: Oklahoma Truck Driving Championship in Oklahoma City, Oklahoma
June 1-2: Utah Truck Driving Championship in Salt Lake City, Utah
June 1-2: Texas Truck Driving Championship in Waco, Texas
June 1-2: Memory Lane Truck and Car Show at Sauk County Fair Grounds in Baraboo, Wisconsin
June 2: Colorado Truck Driving Championship in Henderson, Colorado
June 2: Maryland Truck Driving Championship in Timonium, Maryland
June 2: New Hampshire and Vermont Truck Driving Championship in Pembroke, New Hampshire
June 2: North Dakota Truck Driving Championship in Fargo, North Dakota
June 2: ACTA Delaware Chapter's Annual Antique Vehicle Show at Riverside Battery Park in Delaware City, Delaware
June 3: Massachusetts Truck Driving Championship in North Andover, Massachusetts
June 3: Ocean State Vintage Haulers RI Chapter Annual Truck Show at Johnston Memorial Park in Johnston, Rhode Island
June 5-7: American Trucking Associations National Accounting & Financial Council at Marriott City Center in Raleigh, North Carolina
June 5-7: TMC's Fleet Data Management and Cybersecurity Conference at Marriott City Center in Raleigh, North Carolina
June 7-8: Florida Truck Driving Championship in Dayton Beach, Florida
June 8-9: Illinois Truck Driving Championship in St. Charles, Illinois
June 8-9: Nebraska Truck Driving Championship in Grand Island, Nebraska
June 8-9: Michigan Truck Driving Championship in Lansing, Michigan
June 8-9: New York Truck Driving Championship in Syracuse, New York
June 8-9: Pennsylvania Truck Driving Championship in Middletown, Pennsylvania
June 8-9: Oak Grove 70 Truckers Jamboree at 301 SW 1st Street in Oak Grove, Missouri
June 9: Connecticut Truck Driving Championship, location TBD
June 9: West Virginia Truck Driving Championship in Buckhannon, West Virginia
June 9: Wyoming Truck Driving Championship in Cheyenne, Wyoming
June 9: ATHS Redwood Chapter Truck Show at General Equipment in Napa, California
June 9: Wicomico Middle School Band Annual Car and Truck Show at Wicomico Middle School in Salisbury, Maryland
June 9: ATHS Southeast Iowa Chapter Truck Show at Greater Ottumwa Park and Campground in Ottumwa, Iowa
June 9-10: Minnesota Truck Driving Championship, location TBD
June 10: ATHS Long Island Chapter and Long Island Antique Power Association Big Rig Truck Show at 5951 Sound Ave. in Riverhead, New York
June 10-12: NMFTA Member Meeting at Embassy Suites Old Town Alexandria in Alexandria, Virginia
June 14-15: Iowa Truck Driving Championship in Altoona, Iowa
June 14-16: Shell Rotella SuperRigs Beauty Contest at White's Travel Center in Raphine, Virginia
June 15-16: Kansas Truck Driving Championship in Topeka, Kansas
June 15-16: ATHS Music City Chapter Antique and Working Truck Show at Cumberland County Fairgrounds in Crossville, Tennessee
June 16: Hawaii Truck Driving Championship, location TBD
June 16: Montana Truck Driving Championship in Billings, Montana
June 16: Oregon Truck Driving Championship in Portland, Oregon
June 16: ATHS Minnesota Metro Chapter Truck Show at GATR Volvo Truck in Elk River, Minnesota
June 16: ATHS Northwest Chapter Truck Run, Meeting and Lunch at Pacific Fibre Products in Longview, Washington
June 16-17: Ohio Vintage Truck Jamboree at 2042 Claremont Avenue in Ashland, Ohio
June 22-23: Blair Street Antique Truck Show on Blair Street Down Town in Silverton, Colorado
June 22-23: New Jersey Truck Driving Championship in Iselin, New York
June 22-24: Great Lakes Truck Show
June 23: Washington Truck Driving Championship, location TBD
June 24: ATHS Nutmeg 30th Annual Truck Show and Flea Market at Brooklyn Fairgrounds in Brooklyn, Connecticut
June 24: Tri Counties Fire Associations Annual Show in Jamesburg, New Jersey
June 29-30: Clifford Antique and Classic Truck Show in Clifford, Ontario
June 29-30: Indiana Truck Driving Championship in Indianapolis, Indiana
June 30: ATHS Hiawathaland Truck Show at Nuss Truck and Equipment in Rochester, Minnesota