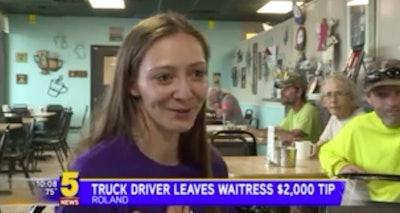 A generous Mississippi truck driver left a waitress at 4 Star Diner in Roland a $2,000 tip on Mother's Day.
Trucker David Platt left waitress Brenda Pearson, who has two children at home, the tip after learning more about her life. He told news outlets he got the impression Pearson was going through hard times and he wanted to help out. Platt left the first $1,000 tip after getting a cheeseburger to-go and came back for pie an hour later and tipped Pearson an additional $1,000.
"Money is just paper or numbers on a screen. Self gratification only goes so far. So, when you're helping another person, you're adding something to the world. It's an investment and people, people are what's important," Roland was quoted as saying by 5 News.