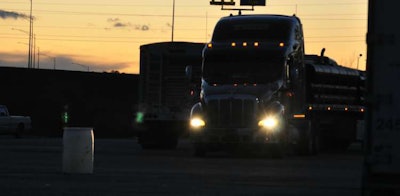 Thirty U.S. senators — 27 Republicans and three Democrats — signed a letter to the Federal Motor Carrier Safety Administration asking for possible improvements in hours of service regulations.
The four-paragraph letter dated May 17 asked FMCSA Administrator Ray Martinez made no specific recommendations. Instead it asked the agency to "provide for a commonsense framework for drivers, rather than a one-size-fits-all model." It also said "it has become more apparent that HOS rules do not provide the appropriate level of flexibility for the safe operation of commercial motor vehicles."
It also said the senators hope FMCSA will be able to improve regulations and address issues within HOS regulations for all drivers, including long-haul drivers, short-haul drivers, agricultural and livestock haulers. We suggest FMCSA examine a wide range of options to address HOS issues and ensure safety, including, but not limited to, providing certain allowances for unique business or driver operations, elimination of unnecessary requirements, or improved utilization of non-driving time."
The three Democrats signing the letter were Jon Tester of Montana, Joe Manchin III from West Virginia and Heidi Heitkamp of Iowa.
Read the full letter and see the 30 signatories at this link.