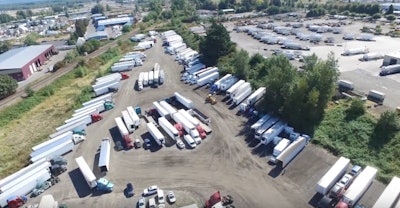 The Truck Depot LLC is seeking investors in its truck parking business.
Company officials will attend The Money Show in Dallas Oct. 3-5 and offer private equity investment opportunities, according to a statement from the company.
The Truck Depot LLC is a membership-based long and short-term commercial truck parking facility that offers drivers parking services, warehousing, truck repairs, and rest facilities in Oregon and Washington State.
"The show in Dallas is the perfect time and opportunity, that the company has been preparing for, to offer private equity investment in order to scale the company's growth faster over the next five years," said Truck Depot CEO and President Aurel Davidyan in a statement from the company.
Richard Greer, the company's vice president for marketing said in the statement that Truck Depot is working with the Washington State Department of Transportation to create facilities in five strategic locations in the state.