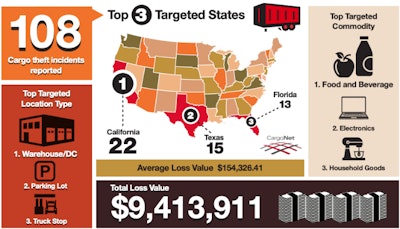 Cargo theft recording firms CargoNet and SensiGuard are warning the trucking industry of increased theft activity during the upcoming Thanksgiving holiday.
SensiGuard says over the last five Thanksgiving periods, which run from the Tuesday before the holiday through the Tuesday after, it has seen just under three thefts per day, which is 26 percent higher than the average rate throughout the year.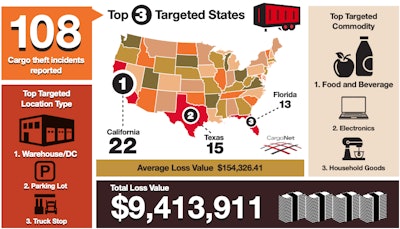 CargoNet says during the same five-year period, it has recorded 108 cargo thefts worth a total of $9.4 million.
The firms report that thieves have primarily targeted electronics and food and drinks during Thanksgiving. The Wednesday before Thanksgiving has seen the most activity, and CargoNet says in many cases, drivers parked their trucks on Wednesday and did not return until after the holiday.
For in-transit cargo, CargoNet recommends that both drivers and managers have accurate license plate, VIN and descriptive information of tractors and trailers in case of a theft. The firm also recommends king pin locks for unattached trailers and high-security seals in combination with padlocks on trailer doors. Tractors should be secured with steering column locks and other high-security devices.