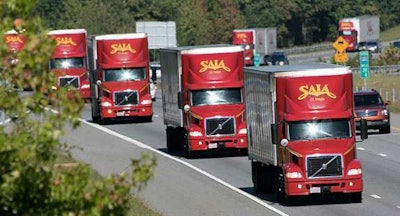 Saia opened three new Saia LTL Freight terminals so far this month and plans to open another before the month's end.
Two facilities opened in Erie, Pennsylvania and Buffalo, New York Sept. 16. Saia relocated its Philadelphia, Pennsylvania to a new, larger facility Sept. 20. The fourth new facility will open in Albany, New York Sept. 30.
Saia began expanding in the Northeast in May 2017 and has opened 16 new facilities in the region since then, including these new facilities. It relocated its Philadelphia-area terminal, which is currently in Cinnaminson, New Jersey, because of capacity restraints.
"Philadelphia has been a true success story for us," said Saia Executive Vice President of Operations Paul Peck. "We have exceeded capacity at our Cinnaminson facility so it was crucial that we move in order to satisfy continued shipper demand. With more doors, the larger terminal will enable us to meet customer expectations in this thriving market for the foreseeable future."
The fleet has three more terminal openings planned for 2019, including a new facility in Southern California.