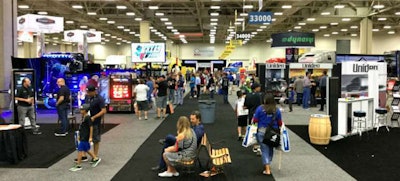 2020 is gearing up to be another busy year for the U.S. trucking industry.
The Great American Trucking Show will return to the Kay Bailey Hutchison Convention Center in Dallas, Texas, Aug. 27-29.
Other notable shows include the Mid-America Trucking Show in Louisville (March 26-28); the 75 Chrome Shop Truck Show in Wildwood, Florida (April 25-26); and the Guilty By Association Truck Show in Joplin, Missouri (Sept. 24-26).
The trucking industry also has numerous American Truck Historical Society (ATHS) chapter events and truck shows slated for the new year. The ATHS annual convention will convene May 28-30 at the Illinois State Fairgrounds in Springfield, Illinois.
The Truckload Carriers Association holds its annual convention March 1-3 at the Gaylord Palms and Convention Center in Kissimmee, Florida. During the convention, TCA and Truckers News will announce the winner of the Company Driver of the Year Award, and the association and Overdrive will name the Owner-Operator of the Year.
Do you know of an event that isn't listed or that has changed dates or locations? Tell us about it in the comments and we will get it added.
Here's a look ahead at what's happening in 2020:
January
Jan. 27-30: Heavy Duty Aftermarket Week at Gaylord Texan Resort & Convention Center in Grapevine, Texas
February
March
April
April 25-26:

75 Chrome Shop Truck Show

in Wildwood, Florida

April 25: ATHS Annual Truck Show and BBQ at Amador County Fairground in Plymouth, California
April 25: Philadelphia Chapter ATHS Antique Truck & Military Vehicle Show at West Goshen Shopping Center in West Chester, Pennsylvania
May
May 1-3: ATHS Southern California Truck Show, Swap Meet and BBQ at Orange Empire Railway Museum in Perris, California
May 2: ATHS Wheat State Antique Truck Show at Newell's Truck Stop in Newton, Kansas
May 7-9:

East Coast Truckers Jamboree

at Kenly 95 in Kenly, North Carolina

May 15-16:

Billy Bob's Gear Jam

at Auglaize County Fairgrounds in Wapakoneta, Ohio

May 28-30: ATHS National Convention & Truck Show at Illinois State Fairgrounds in Springfield, Illinois
June
June 4-7:

Wheel Jam Truck Show

in Huron, South Dakota

June 13: ATHS Southeast Iowa Antique & Working Truck Show at Ottumwa Park & Campgrounds in Ottumwa, Iowa
July
July 9-11:

Walcott Truckers Jamboree

at Iowa 80 Truckstop in Walcott, Iowa

July 17-18:

Gulf Coast Big Rig Truck Show

at Mississippi Coast Coliseum and Convention Center in Biloxi, Mississippi

July 18: ATHS Central Coast Chapter "Cooler" Antique Truck Show at Nipomo High School in Nipomo, California
August
Aug. 6-9: National Brockway Truck Show at CNY Living History Center in Cortland, New York
Aug. 19-22: American Trucking Associations National Truck Driving Championships and National Step Van Driving Championships at Indiana Convention Center and Lucas Oil Stadium in Indianapolis, Indiana
Aug. 27-29:

Great American Trucking Show

at Kay Bailey Hutchison Convention Center in Dallas, Texas
September
Sept. 5-6: ATHS Palmetto Upstate Fall Show at Dacusville Heritage Association Family Farm Days in Dacusville, South Carolina
Sept. 13-19: National Truck Driver Appreciation Week (NTDAW)
Sept. 18-20: San Juan Mountain Classic Truck and Vehicle Show at Riverside Park in Aztec, New Mexico
Sept. 24-26:

Guilty By Association Truck Show

at 4 State Trucks in Joplin, Missouri

Sept. 27: ATHS Metro Jersey Show at Skylands Stadium in August, New Jersey
October
Currently no events are listed for October
November
Currently no events are listed for November
December
Dec. 19: National Wreaths Across America Day