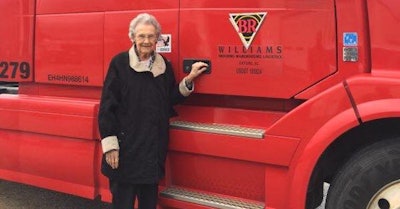 One woman's longtime dream of riding in a big rig was recently fulfilled by an Alabama trucking company.
BR Williams Trucking, headquartered in Oxford, Alabama, arranged the ridealong for 95-year-old Helen Haywood. Jack Brim, the fleet's senior vice president of transportation, first learned about Haywood and her trucking ambitions when her daughter approached him during a local Chamber of Commerce event where the fleet had a booth.
"Mrs. Helen's daughter came by the BRW booth and asked if we ever give rides in the trucks and that her 95-year-old mother wanted to ride in a truck, especially a big red one," Brim said.
Brim said his heart was touched and he immediately said absolutely, the fleet could arrange for a ride. Then it occurred to him: How would they get Haywood into the truck cab five feet off the ground? The BR Williams team brainstormed and came up with the idea to lift Haywood into a cage that they use for high off the ground projects. The ridealong took off Oct. 24, with some of Haywood's family members present and Brim behind the Volvo's wheel.
"I can't tell you how sweet she was and the look on her face," Brim said. He referenced Ruth Williams, who founded the fleet with her husband, Bill, saying, "I could only see Mrs. Williams smiling down from heaven being so proud of her dream continuing to be a servant."
When the ride was over Haywood told them to give her a call if they ever needed someone to ride along on a trip, Brim said.
"The family said how thankful they were to the BR Williams family for making this happen. My reply was we thank you because we were the ones that received the blessing with the look on Mrs. Helen's face," Brim said.