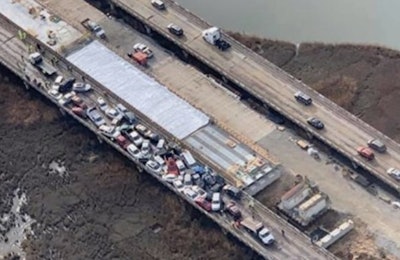 The latest mass accident on a U.S. interstate involved 63 cars and trucks and sent 35 people to the hospital.
The huge pile-up occurred Sunday morning at about 7:50, Dec. 22, on Interstate 64 in York County near Williamsburg. Authorities blame fog and black ice on an overpass.
The Virginia Department of Transportation closed both the westbound lanes, where the accidents had occurred and the eastbound lanes. They reopened by 3:35 p.m.
No life-threatening injuries were reported.
12:30 UPDATE: #VSP investigation continues into 63-vehicle chain reax crashes impacting east & west I64 in #York County. 35 transported for treatment. No fatalities reported. Continue to folo @511statewideva for detour info. @YorkPoquosonSO @VaDOTHR pic.twitter.com/UFZ2oK3f2U

— VA State Police (@VSPPIO) December 22, 2019
Truck plows into historic Florida building
Also on Sunday, a tractor-trailer slammed into an historic inn near Orlando, Florida.
The truck hit the Desert Inn, which is located in Yeehaw Junction off the Florida Turnpike. The inn, which closed last year, is said to have been built in 1889. It was added to the National Register of Historic Places in 1994.
No injuries were reported. No cause for the accident was listed.
Flatbed loaded with transformers hits Boston bridge
In Boston Sunday, a tractor-trailer carrying transformers hit a bridge on Storrow Drive near Charles Circle at about 9:30 a.m.
WHDH-TV reports the trucker said he was delivering the equipment to Dorchester but got lost and didn't realize how low the bridge was.
A haz-mat team was on the scene to clean up the mineral oil said to have leaked from the damaged transformers.
The street reopened at about 8:30 p.m.
No injuries were reported.
At approximately 9:30 a truck carrying non hazardous transformers hit the bridge on Storrow Drive near Charles Circle. The transformers are leaking. Companies have contained the leak .There are no injuries to report. pic.twitter.com/eiPOV5jCfD

— Boston Fire Dept. (@BostonFire) December 22, 2019
Big rig crashes into LA liquor store
A tractor-trailer struck a liquor store along the Sun Valley and North Hollywood border in the early hours of this morning.
The crash happened around 3:20 a.m. near Lankershim Boulevard and Sherman Way, the Los Angeles Police Department to KTLA.
The truck's driver told police he lost control of the truck when a speeding vehicle ran a red light and struck his rig, which then plowed into the liquor store.