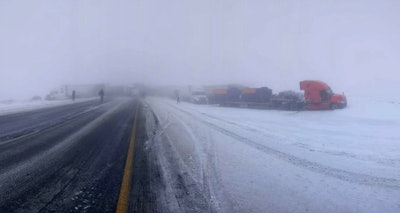 For the second time this month, a major pileup on Interstate 80 in Wyoming included numerous tractor-trailers and closed the highway for an extended period of time. In all 27 vehicles were involved in the crash, including 23 trucks.
The crash occurred at about 10:18 a.m. Friday, March 20, on eastbound I-80 near mile marker 331 between Laramie and Cheyenne. It began, according to a statement from the Wyoming Highway Patrol, when one of their officers stopped to assist a tractor-trailer stopped in the roadway. While the trooper talked to the truck driver, another truck hit the back of the one that was stopped.
Other trucks trying to avoid the collision lost control and collided or went off the highway. Troopers said there was dense fog and slick roads at the time of the crash.
No details were given as to the extent or number of injuries.
Earlier this month two truckers were among three people killed in crashes that involved more than 50 vehicles — mostly trucks — on I-80 between Wamsutter and Rawlins. Bad winter weather also was a factor in those pileups, which occurred on March 1.