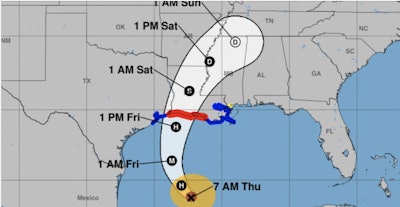 As Hurricane Delta is forecast to hit the Gulf Coast Friday, Oct. 9. the Federal Motor Carrier Safety Administration has issued an emergency declaration suspending hours of service regulations for emergency relief haulers responding to the storm.
States included in the declaration are Alabama, Florida, Louisiana, Mississippi, and Texas. The waiver covers drivers providing direct relief transporting supplies, goods, equipment, and fuel into the affected areas.
According to the National Hurricane Center, Hurricane Delta is expected to make landfall as a major hurricane during the day Friday. Strong winds, storm surge and rain totals of up to 15 inches in some areas are expected.
The hurricane center reports a hurricane watch continues for the northern Gulf coast from High Island, Texas, eastward to Grand Isle, Louisiana while a tropical storm watch continues along the Texas coast from west of High Island to San Luis Pass and from east of Grand Isle, Louisiana, to Bay St. Louis, Mississippi, including the city of New Orleans, Lake Pontchartrain and Lake Maurepas.