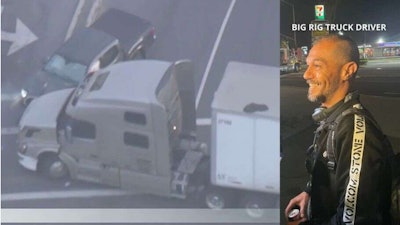 A professional driver was in the right place at the right time and did the right thing Tuesday evening, April 6, to help end a police chase for a murder suspect.
A man fleeing police was finally taken into custody after a trucker pulled his rig into the path of the fleeing pickup truck. The pickup crashed into the front passenger side of the truck, and the suspect and passenger surrendered to police.
The chase ended at about 7 p.m. in Pomona, California when the trucker, Ahmed Shabaan, waited at an intersection and when the suspect's pickup approached, he pulled in front of it forcing the pickup to crash.
He told Fox 11 News in Los Angeles he felt he had to help if he could and he had the power to do so.
"I just thought to get him off the street," Shabaan said. "If I didn't, and [officers] have been behind him for that long and didn't stop him... I have the power."