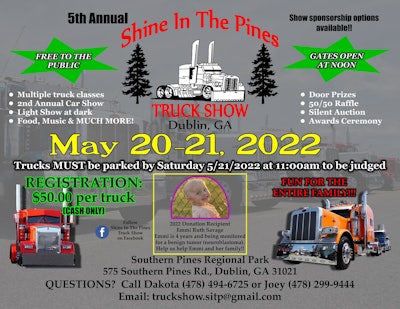 A Georgia truck show in May will raise funds for the family of a child being treated for a brain tumor.
The fifth annual Shine In The Pines truck show is scheduled for May 20-21 in Dublin, Georgia, which is located near Interstate 16 about halfway between Atlanta and Savannah.
The two-day event at the Southern Pines Regional Park includes:
numerous judged truck show classes
a car show
truck light show
food and music
Admission is free and the show is open to the public.
RELATED NEWS: Numerous truck shows, other industry events announce 2022 dates
Proceeds from the show will benefit the family of Emmi Ruth Savage, a 4-year-old being treated for a benign brain tumor.
Work Truck Week slated for March 8-11
Work Truck Week, including the Green Truck Summit, is scheduled for March 8-11 at the Indiana Convention Center in Indianapolis.
The week's opening reception will be held at Lucas Oil Stadium.
According to organizers, the exhibit hall features the latest advanced technology and alternative fuel vehicles, equipment, and other products. Electric trucks, chassis, bodies, and related equipment are among the many new offerings scheduled to launch at the show. In addition, attendees will be able to test drive the latest electric, alternative fuel, and advanced technology vehicles from 15 participating companies.
New this year are 16 breakout sessions during the Green Truck Summit, covering clean energy trends and updates. You can see the complete schedule online. Here's where to register for the event.
Organizers suggest downloading the event's app to make the most of the show.
According to organizers, all WTW22 attendees must provide one of the following before badge pickup: proof of vaccination status, proof of a negative COVID test (within 72 hours), or completion of a quick health screening survey. Also:
U.S. citizens can download the free CLEAR app to complete the Health Pass screening to allow for secure and seamless entry upon arrival.
Non-U.S. citizens and those without access to the CLEAR app can complete a quick health screening at one of the conveniently located Work Truck Week registration areas.
ICYMI
Is this the time to go out on your own?
Finalists named for Best Fleets To Drive For contest
Tractor-trailer struck by plane making emergency landing on I-95
This you have to see ...