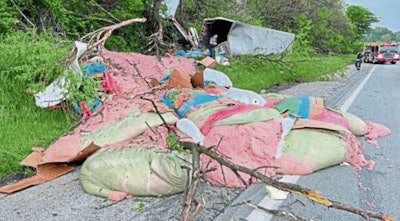 Rostraver Central Fire Department
A tractor-trailer crashed on Interstate 70 in Rostraver, Pennsylvania May 20, spilling more than seven tons of hot dog filler on the highway.
Police said Makendy Lachald, 30, of Laurel, Delaware was westbound near milepost 43 at 6:40 p.m. when he lost control of the truck, drove off the right shoulder of the highway and crashed.
The highway was reduced to one lane until 11:30 p.m. while first responders cleared the debris.
The State Police said their investigation found the 2004 Freightliner had multiple brakes that were completely inoperable.
Lachald and a passenger, Robert Gilles, 42, also of Laurel, Delaware were treated for minor injuries at the scene and refused transport to an area hospital.
In an unrelated crash, Highway 47 in Colorado was shut down for around 10 hours on Sunday, May 22, after a tractor-trailer hauling a piece of a wind turbine overturned, spilling the load.
The accident happened in Pueblo, Colorado on US Highway 50/Colorado Highway 47 at around 8 a.m.
According to KOAA News, the truck was heading eastbound on the highway near the Interstate 25 off-ramp and Dillon Drive when the truck overturned, knocking the piece of the wind turbine off of the trailer.
A crane and a second truck were used to remove the piece of the tower. The highway was closed for almost twelve hours.
One company moves up Forbes list, another on it for first time
Two trucking companies are part of a prestigious ranking of businesses.
J.B. Hunt Transport Services Inc. announced it has been named to the Fortune 500 list for the tenth consecutive year. The company ranked 311, moving up from its position in 2021.
"This recognition is a testament to the culture of innovation and excellence we strive for at J.B. Hunt," said John Roberts, president and chief executive officer at J.B. Hunt. "As we work towards our mission of creating the most efficient transportation network in North America, we will continue to leverage our talented people, industry-leading technology, and capacity-driven solutions to serve the needs of our customers and their supply chain."
Landstar System, Inc. announced it was named for the first time to the Fortune 500 list of America's largest corporations by revenue. With revenue of about $6.5 billion in fiscal year 2021, an annual record for the company, Landstar debuted at number 491 on the list.
"The consistent strength and depth of the Landstar network is what earned the company this prestigious ranking," said Landstar President and CEO Jim Gattoni. "The ability of our independent agents and employees to scale operations and adjust to the marketplace, the power of our unique capacity network to execute, and our innovative digital tools that facilitate efficiency in freight transportation management combined flawlessly to achieve remarkable performance."
ICYMI
NHTSA report shows 2021 traffic deaths reached total last seen in 2005
Driver for Cliff Viessman is South Dakota skills competition winner
Marijuana, predatory towing among ATRI's research priorities