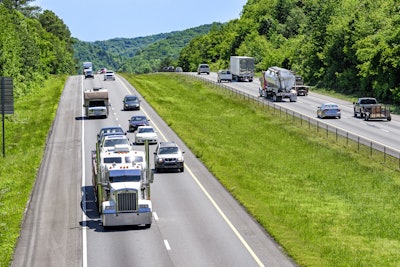 While gas -- and diesel -- prices remain at near-stratospheric heights, Americans will be undeterred when it comes to traveling to celebrate the upcoming long Fourth of July weekend.
AAA predicts almost 50 million people will travel 50 miles or more from home from June 30 to July 4. That's a 3.7% increase over 2021 and close to the pre-COVID numbers of 2019.
Most of those -- 42 million people --  traveling to celebrate Independence Day will be joining professional drivers on the nation's interstates. AAA says that will set a new record for automobile travel.
Drivers should expect the longest travel delays heading into the holiday weekend, particularly during the afternoons on Thursday, June 30 and Friday, July 1 as commuters leave work early and mix with holiday travelers, according to AAA. Drivers in major U.S. metros areas could experience double the travel times compared to a normal trip.
AAA's predictions for the best and worst travel times each day of the five days include:
Thursday, June 30:  Worst time is 2 p.m. to 8 p.m. and the best times are before 7 a.m. and after 8 p.m.
Friday, July 1: Worst time is noon to 9 p.m. and the best times are before 10 a.m. and after 9 p.m.
Saturday, July 2: Worst time is 2 p.m. to 4 p.m. and the best times are before noon and after 7 p.m.
Sunday, July 3: Low congestion is expected all day
Monday, July 4: Low congestion is expected all day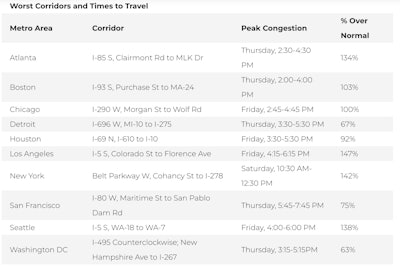 "The volume of travelers we expect to see over Independence Day is a definite sign that summer travel is kicking into high gear," said Paula Twidale, senior vice president, AAA Travel. "Earlier this year, we started seeing the demand for travel increase and it's not tapering off. People are ready for a break and despite things costing more, they are finding ways to still take that much-needed vacation."