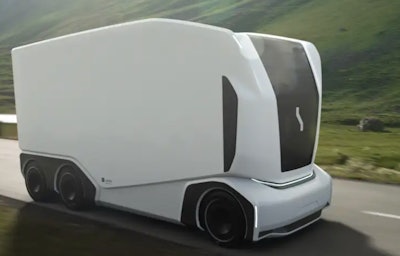 A Swedish company has gotten federal government approval to test driverless trucks on highways in western Tennessee.
Einride was granted a permit by the National Highway Traffic Safety Administration for a public road pilot project. The company's autonomous electric vehicle, called a Pod, has no driver onboard. Instead, it is monitored remotely by a person who can assume control if necessary.
Forbes reports the public road pilot is being done GE Appliances. Pods will operate on public roads near GE Appliances's plant east of Memphis. The Pods will perform a variety of tasks including the movement of goods and coordinating with teams at various warehouses for loading and unloading.
Einride's public road pilot project is to begin in the third quarter of this year. A similar project was staged in Europe in 2019.
Driver dies when his truck destroys roadside tavern in New York
A 33-year-old truck driver died earlier this week when the tractor-trailer he was driving left the highway in New York's Hudson Valley and slammed into a roadside tavern.
Police say Craig Allen Dickson of Hopewell Junction was operating a tractor-trailer eastbound on Salt Point Turnpike in Hyde Park when it left the roadway and slammed into Junior's Lounge on Salt Point Turnpike. The building was destroyed by the crash.
The owner of the tavern was inside at the time but escaped uninjured. An upstairs tenant was sleeping in the front apartment and her bed landed on top of the tractor-trailer with her in it. She was uninjured, according to authorities.
Police report Dickson's tractor-trailer earlier had struck another vehicle earlier. They continue their investigation.
Texas Eagle Scout rescues trucker whose tractor-trailer overturned
A 16-year-old Eagle Scout is being praised for his quick actions to rescue the driver of a tractor-trailer that overturned on a highway in Texas.
Media reports say16-year-old Rylan Bradfield was driving on Farm Market road 1818 in Diboll, Texas when a tractor-trailer hauling wood chips rolled over, trapping the driver in the cab.
Bradfield told KWTX News that when he saw the wreck, "My instinct was to get him out."
He climbed onto the cab and pounded on the glass to get access to the driver. Bradfield said the driver then managed to kick out the windshield, and the young scout helped him out. He administered first aid to cuts on the driver's arm and calmed him until an ambulance arrived.
" I'm really glad he knew what to do and he was able to help that man out," said Randall Bradfield, father of the Eagle Scout.
Diboll is located near Lufkin, Texas about 110 miles northeast of Houston.
ICYMI
Expect to see more police in 5 states along I-81 throughout this week
Trucker busted for carrying $4 million in meth
Kenworth shows off 50 new, classic trucks in hometown parade
Even with $5 a gallon gas, Americans will celebrate July 4th on the road
You Have To See This