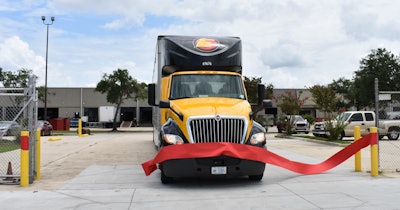 Estes Express Lines
Estes Express Lines recently held a ribbon-cutting ceremony for its new terminal in New Orleans.
The terminal features 76 doors, 32,515 square feet of dock space, and 3,200 square feet of office space.
Among those in attendance were: Webb Estes, president and COO; Carrie Johnstone, vice president of Innovation and Customer Experience; Greg Richardson, vice president of Human Resources; and Sara Graf, vice president of Sustainability, Culture and Communication.
Estes Express Lines is an LTL carrier headquartered in Richmond, Virginia. It has more than 10,100 drivers.