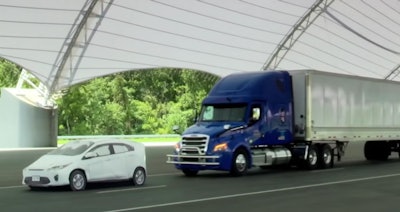 Insurance Institute for Highway Safety
The deadline looms for comments on the federal government's proposal to require automatic emergency braking technology on heavy-duty trucks.
The commenting period on the proposal published jointly by National Highway Traffic Safety Administration and Federal Motor Carrier Safety Administration ends Sept. 5. However the Commercial Vehicle Safety Alliance has filed a petition asking for the deadline to be extended. The agencies have yet to rule on CVSA's request.
You can make comments online.
While the proposal does not require existing heavy vehicles to be retrofitted with automatic emergency vehicle technology, it does call for all Class 7 and 8 vehicles – those weighing more than 26,000 pounds – to be required to meet the automatic emergency braking standards three years after the rule takes effect. All Class 3-6 vehicles – those weighing 10,001-26,000 pounds – would be required to meet the automatic emergency braking and electronic stability control requirements in four years.
Heartland honored by Logistics Management Magazine
Heartland Express, Inc. was recently recognized with Logistics Management Magazine's Quest for Quality Award for the 19thtime in the last 21 years.
Heartland Express has received Logistics Management Magazine's 2023 Quest for Quality Award within the Dry Freight Carrier classification. To determine the best of the best, Logistics Management's readers vote on carriers' service quality based on five criteria:
On-time performance
Value
Information technology
Customer service
Equipment and operations.
Heartland CEOMike Gerdin said, "Every day our professional drivers and supporting office/shop employees execute against our 'Service for Success' motto. We believe that our service standards, safety record, maintenance program, and investments in our modern fleet of equipment, have made us a core carrier to many of our major customers who demand on-time service."
Heartland Express is an irregular route truckload carrier based in North Liberty, Iowa serving customers with shipping lanes throughout the United States. Heartland focuses on medium to short-haul regional freight, offering shippers on-time service so they can achieve their strategic goals for their customers.
Logistics Management is the premier information source for logistics and transportation professionals. Since 1962, Logistics Management has been serving the information needs of logistics, transportation and distribution professionals. More information can be found at www.logisticsmgmt.com.
Women In Trucking awards scholarships
During its spring scholarship application cycle, the Women In Trucking Foundation received over 100 applications and awarded 31 scholarships. This is up from 23 recipients in the previous, fall 2022 cycle.
By offering financial support through its scholarship program, the WIT Foundation allows women to overcome financial barriers to access education and training programs, empowering them to pursue successful careers in trucking. Recipients also receive a one-year membership to the WIT Association, which comes with access to mentorship, networking, and education resources.
Scholarships are awarded in four categories: leadership, driving, safety, and technician.
The foundation's fall 2023 scholarship application cycle is currently open. The deadline to apply is Sept. 30.
ICYMI
UPS driver from Nevada wins driving contest grand champion title
Old Dominion Freight Line offers $1.5 billion for Yellow's 169 terminals
Tennessee undertakes awareness, recruiting campaign for truck drivers