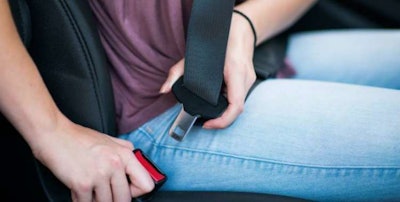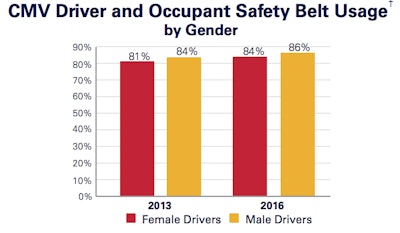 While seat belt use by commercial drivers has increased steadily in recent years, women who drive commercial vehicles drivers buckle up slightly less often than their male counterparts.
A new study by the Federal Motor Carrier Safety Administration says seat belt use by commercial truck and bus drivers rose to a new record level of 86 percent in 2016. That compares to just 65 percent in 2007, according to the results of a national survey.
The survey also found that safety belt use for commercial drivers and their occupants was highest by trucks and buses traveling on expressways at 89 percent, compared to 83 percent on surface streets.
Regionally, the survey found that commercial vehicle drivers and their occupants in the West, Midwest and South all wore safety belts at an 87 percent rate. Only in the Northeast was safety belt usage by truck and bus drivers different and significantly lower at just 71 percent.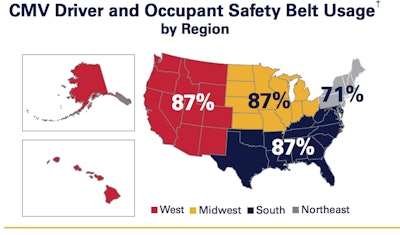 The FMCSA said states with "secondary" seat belt laws (law enforcement officers may only stop drivers for violations other than not being buckled) have nearly matched states with "primary" seat belt laws (officers can stop and ticket drivers and occupants for simply not wearing a safety belt) – 84 percent compared to 85 percent – in the most recent survey.
"Buckling up your safety belt, regardless of the type of vehicle you drive or ride in, remains the simplest, easiest and most effective step you can take toward helping to protect your life," said newly-installed FMCSA Deputy Administrator Cathy F. Gautreaux. "While it is good news that we are making strong progress, we need to continue to emphasize that everyone, everywhere securely fasten their safety belt 100 percent of the time."
The 2016 survey observed nearly 40,000 commercial drivers operating medium- to heavy-duty trucks and buses at more than 1,000 roadside sites nationwide.