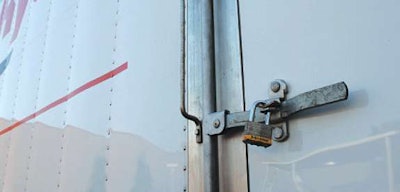 Cargo theft recording firm SensiGuard is warning truck drivers and fleets of the potential for increased cargo theft activity over the upcoming long Memorial Day weekend.
The firm says cargo theft levels have increased on past Memorial Day weekends by as much as 52 percent over normal weekends with average theft values up to 191 percent higher than non-holiday weekends.
SensiGuard says since 2013, Memorial Day weekends have seen an average increase in cargo theft activity of 28 percent totaling more than $9.7 million.
Notable thefts over Memorial Day weekend in recent years include:
Pilferage of electronics worth $135,000 in Tennessee in 2017
Fictitious pickup of computers worth $584,000 in Kentucky in 2017
Theft of a full truckload of cosmetics worth $2.5 million in New Jersey in 2015
Theft of a full truckload of TVs and displays worth $800,000 in Florida in 2014
To combat cargo theft over holiday weekends, the firm recommends confirming receivers' holiday weekend hours to mitigate the time a load is parked unsecured. Additionally, SensiGuard says to plan for secure parking locations if a load has to sit longer than normal because of the holiday. GPS tracking and active monitoring are suggested for high-value loads.