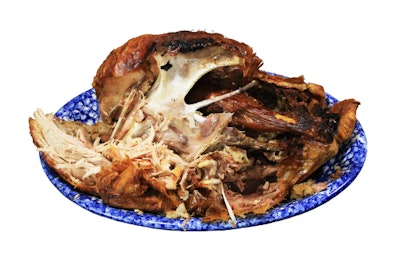 Let's be honest — the best part of Thanksgiving turkey is the leftovers. But after you've had a couple of turkey sandwiches, what do you do with the rest of the meat? Plus, who really wants to cook after doing so much of that at Thanksgiving? With that in mind, here are a few slow-cooker recipes for all that leftover turkey.
Turkey Chili
The great thing about this recipe is its simplicity—the most complicated part is dicing an onion! The rest of the recipe just involves adding your turkey, spices and canned goods, setting the timer, and waiting for the magic to happen.
Turkey and Dumplings
Colder weather calls for warm, cozy recipes. This creamy turkey and dumplings recipe fits the bill and uses a can of refrigerated biscuits to make the dumplings. Feel free to add additional veggies such as celery, peas, or some frozen mixed vegetables for a little more variety.
Turkey and Andouille Gumbo
Turkey gumbo the day after Thanksgiving is a tradition in my family, and this easy slow-cooker version is sure to please. This recipe does require a couple extra steps like dicing vegetables and preparing a roux, so you'll need access to a kitchen (or a hot plate at least) in order to get it started. Once everything is prepped, you can hit the road with your slow cooker gumbo in tow.