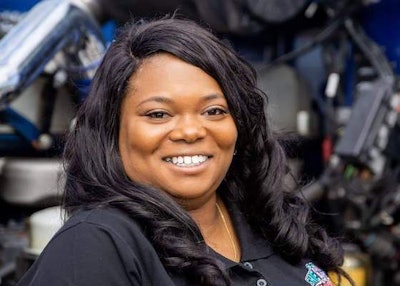 Real Women in Trucking has announced three additional award winners after announcing two earlier this month. In total, RWIT will distribute four Trucking Industry Trailblazer awards and one Queen of the Road award during the Great American Trucking Show later this week in Dallas.
The three additional Trailblazer award recipients are drivers RoniHazel Sherman, Karen Shank and Julie Hedglin.
Sherman is a Vietnam veteran who has been driving since 1972. She is transgender and began her transition in 2006. She will receive the Trailblazer award for "empowerment, generosity and courage."
Shank is being honored as a "courageous plaintiff" for her role in a lawsuit against CRST Van Expedited of Cedar Rapids, Iowa. "The Karen Shank case continues to give literally thousands of women truck driving students hope that together we can change this industry and hold trucking companies and their enablers accountable for the sexual misconduct that runs rampant in their training programs," according to RWIT.
Hedglin is also being recognized as a "courageous plaintiff" for being the lead plaintiff in a recently settled meal and rest break case against Swift Transportation, RWIT says. "RWIT is honored to present Julie with a Trucking Industry Trailblazer award for being a courageous plaintiff and thinking about her fellow drivers who work hard and deserve to be compensated for all of their work time," the association said.
Sharae Moore of S.H.E. Trucking was the first woman to be announced as one of the four Trailblazer awards winners. Moore is being recognized for "fostering successful diversity," says RWIT President Desiree Wood. Overdrive's Most Beautiful winner Brita Nowak will present Moore with the award.
Elizabeth Sweet, who pulls a crude tanker for Contractor Support, was previously announced as the Queen of the Road award recipient, which will recognize her for willingness to aid others by donating a kidney to fellow driver Cheryl Lynn Ibana-Bean. Ibana-Bean will present Sweet with the award.
Other presenters at the event will include Idella Hansen and professor and author Anne Balay.
The RWIT awards presentation, sponsored by the RoadPro Family of Brands, will be Saturday, Aug. 24, at 2:30 p.m. in Hall A. The event is open to everyone.