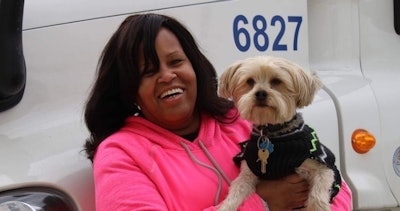 When Tamara Brock got into the trucking industry she had a specific plan to lease a truck, pay it off within five years, and then come off the roD.
Before trucking, Brock ran her own tax business. When her business went under Brock found herself falling on hard times. She lost her house, her vehicles, and was living on food stamps. When she saw a commercial for a truck driving school claiming she could have a career within three weeks, Brock said she had nothing to lose.
She now drives for LTI Trucking and has now been in the industry for five years. Just as she planned, she's on track to pay off her 2016 Freightliner Cascadia within the next few months.
But she's also accomplished so much more. She's launched her own recruiting business, runs a trucking YouTube channel with over 30,000 subscribers, and has become involved with Real Women in Trucking.
"I started two years ago working on doing my own independent recruiting because I'm so good at getting drivers in the seat," said Brock.
She found success in recruiting through her YouTube channel, where she posts updates on her over-the-road life and dishes out advice. Just two years after formalizing her recruiting business, she says she now has over 50 companies that she works with.
"It started with just me being gone away from home. I didn't have time to talk to and call every family member and let them know the same story about how I was doing," Brock said about her YouTube channel.
She started doing YouTube so that she could post one update that all her family members could then watch. Now, her YouTube audience has started to feel like an extended family. "I feel like I know them. When they come up to me in the truck stops or at the shipper or receiver, they say hey Ms. Diva, and it's like we're family."
Brock plans to come off the road after her truck is paid off, focusing her efforts on her recruiting business and hiring someone else to run her truck. Brock supports her 78-year-old mother, who uses a wheelchair, so Brock wants to be closer to her home and family.
"I wanted to get to a place where I could go back to working at home," Brock said. Her trucking experience will help her continue to be successful with her recruiting business, Ms. Diva Trucker CDL Recruiting Services, LLC. "Trucking gave me the opportunity to come out here and really understand what it's about, and I can say that I've been there. I know what it is being out here in the winter and this kind of stuff. That gave me the opportunity to get the hands-on experience that I needed."
Brock encourages women coming into the industry to have a plan for where they want to see their trucking careers go. Gain experience, Brock says, and you can take your career in any direction you want.
"Experience is what gets you the money. When you first come out here, we all had to start at step one. We all had to get our foot in the door but once you get that experience under your belt, then you can move on and become more valuable without having any incidents, any tickets, anything, and get all of your endorsements. Then you become valuable and you can go anywhere you want to," Brock said.