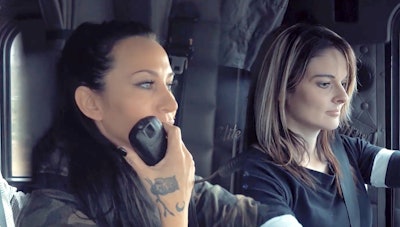 Australian country-rock singer Jayne Denham's "Black Coffee & White Lines" music video is now out, and features a few familiar faces. Ice Road Truckers stars Lisa Kelly, Carey Hall, and Maya Sieber-Pyskaty joined Denham for the video, which was shot in Anchorage and Glacier Mountain, Alaska.
"Filming in Alaska with three of the Ice Road Truckers was totally beyond my wildest dreams. We had way too much fun and now have wonderful memories to treasure. I am really proud of this music video and what director Jay Seeney has captured on film. It is everything I wanted to share about the reality of truckin' and the love of it," Denham said.
Denham was joined by the stars of the History reality TV show when she debuted the song at last August's Great American Trucking Show in Dallas.