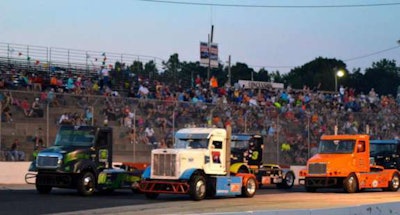 The Minimizer Bandit Big Rig Series will run its first and only Friday night race of the season this week as the racers head to Madison International Speedway in Madison, Wisconsin.
The race will be the eighth of the 13-race season.
Going into the race, Ricky "Rude" Proffitt leads the overall points standings, followed by "88 Mike" Morgan and Tommy Boileau. Proffitt has three wins this season, followed by Morgan's two and Boileau's one win two weeks ago in Iowa.
The grandstands for Friday night's race open at 6 p.m., with qualifying at 6:15 and racing at 7:30.
Tickets are $25 for adults, $22 for seniors and students ages 12-17, $10 for children ages 6-11 and free for children under 5. A "family" ticket good for two adults and up to four students and/or children under 17 is also available for $60.